10 Paris Fashion Week Trends We Can't Wait To Tap Into
Spring 2024 will be a fun time to get dressed.
TZR; Getty Images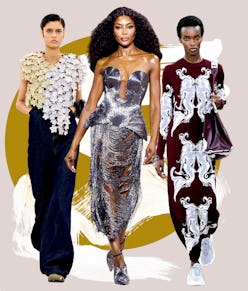 Even during the most uneventful of seasons, Paris Fashion Week is packed with action. And the proceedings for Spring/Summer 2024 were no different: We watched Alexander McQueen's creative director Sarah Burton send a poignant final collection for the brand down the runway, and buzzy NYC wunderkind Peter Do make his Parisian debut. There were PETA protesters at Hermès, surprise guests on multiple catwalks (especially at Balenciaga, where the designer sent out the opening look on his mother), and breathtaking sets, ranging from the dramatic stripped back marble platform at Saint Laurent to Stella McCartney's transformed open air market. Then, of course, there's all the new trends to consider: After eight straight days of watching the crème de la crème of the industry strut their stuff, we have plenty of new styles ideas to mull over.
One major takeaway? The overall emphasis of building a long-lasting wardrobe from well-made basics is continuing to permeate the mood of the moment. However, labels are finding innovative ways to put their own stamp on essentials and, better yet, giving us brilliant news ways to completely make them our own — see, for instance, a preponderance of tops with one shoulder pushed to the side and belted blazers.
Over at Loewe, it was all about silhouettes that seem simple at first glance, but were actually just off-kilter enough in proportion — extra high trousers, dramatic cocoon-like cardigans — that feel high fashion (and fun!). Miu Miu, on the other hand, leaned hard into Y2K preppy classics with plenty of cropped tops and dangerously low slung waist bands (accessorized with super thick leather belts) to offer some edge. And although the mostly black and white offerings at Dior were quite understated when seen as individual pieces, the offerings as a whole reflected a gothic-cool sensibility thanks to styling that would feel right at home in the The Craft.
See how these key shows and more played into the more compelling fashion themes of the week.
Witchy Woo
Forget about florals: Next spring designers are helping you tap into your, ahem, darker side with a coven's worth of all black and slightly eerie options. Try going for a gauzy, sorceress-esque outfit à la Dior (who was inspired by the occult) or channel a glittering enchantress in Chanel's sparking noir pantsuit. Over at Sacai, meanwhile, the structured goth girl separates are ideal for what a modern day Wednesday Addams fan might want to wear.
Holey Good
Giambattista Valli Peter White/Getty Images
HermésVictor VIRGILE/Gamma-Rapho/Getty Images
While eyelet often feels overly prim and proper, the feminine material got a rebrand this past week. A few noteworthy updates include a poppy red shirt dress at Hermés, the music festival minis from Isabel Marant, and Giambattista Valli's sweeping broderie anglaise gowns.
Drape Scape
Givenchy Peter White/Getty Images
Traditional togas this trend is not. The latest in relaxed folds of fabric range from elegant enough for a black tie ball — see Victoria Beckham — to dark, and moody, as spotted at Maison Margiela. And if you're seeking style risk with a softer, sweeter vibe? Consider the sheer swathes of materials dreamily layered together at Givenchy.
You've Got (Chain)mail
Call it the Beyoncé effect: Much like the star's own shiny, disco-fabulous tour style, metallic styles centered around intricate metalwork are dominating the conversation right now. Courregés went for a full-on silver tunic, while Rabanne opted for a liquid-like gold dress trimmed in light-catching spangles. But there is arguably no example more show-stopping than the Studio 54-glamourous number, replete with a long metallic fringe skirt, seen on Naomi Campbell at Alexander McQueen.
Something Corporate
In a world where the C-suite is dressed in everything the French runways have to offer, oversize blazers are paired with sheer skirts (Carven), button-downs are barely buttoned (Dries Van Noten), and and a full pants suit comes complete with a fur layer (Peter Do). But even if you don't wear these fantasy office outfits in full next season, luckily there will be plenty of wardrobe building blocks to rework with what you already own.
Move Over Rosettes
Loewe Pascal Le Segretain/Getty Images
It seems the freshest way to pay homage to florals is to trade your squishy fabric buds for full-on silhouettes crafted from intricate blooms. Loewe masterfully demonstrated the look with a twinkly statement top for the ages, and Chloé took a few dresses up a notch by way of playful cut-out blossoms. And Marni committed so deeply to not-your-garden-variety minis that many of them appear to be fully crafted from colorful wild flowers.
Going Baroque
Stella McCartney Peter White/Getty Images
Valentino Victor VIRGILE/Gamma-Rapho/Getty Images
While Rococo motifs may have centuries of history behind them, the ornate prints felt completely modern set against the sheet silhouettes at Stella McCartney. Other revamped variations of note? Valentino's artsy prints and the golden embroidery at Schiaparelli.
Fast & Furious
Louis Vuitton Kristy Sparow/Getty Images
The moto trend that's been driving the fashion narrative for over a year isn't going anywhere — at least not if Louis Vuitton, Ottolinger, and Balanciaga have anything to do with it. Still, you might want to wait a few months before making a big biker jacket purchase, because more than a few fantastic ones are coming out for spring.
Put A Belt On It
Saint LaurentMarc Piasecki/WireImage/Getty Images
Wide, skinny, hip slung, waist-cinching — belts of all sorts are having a major moment, so there is most definitely an option for everyone. Take a cue from Saint Laurent and try giving a button-down shirt a new shape with a basic menswear style, or coordinate the color to the rest of your look in the spirit of Rokh. And if you're feeling especially daring, make like Miu Miu and thread a thick leather strap through the loops of a super low rise skirt.
Trailing Ahead
Cecilie BahnsenKristy Sparow/Getty Images
Louis Vuitton WWD/Getty Images
ICYMI, high-low hemlines are making a triumphant return. But if you aren't quite ready to dive into that particular piece of 2010s nostalgic, consider dipping your toe in the water by way of a skirt with delicate fabric wafting behind it. The most subtle take on the silhouette was definitely at Vuitton, where just a bit of sheer material dangling down, whereas the breezy micro trains at Cecilie Bahnsen and Loewe offer more of a statement. (Really, though, you can't go wrong either way.)