Beyoncé's 'Renaissance' Is Defining A Whole New Party Aesthetic — Here's How To Get The Look
Your concert 'fit crib sheet.
@Beyonce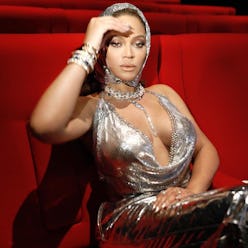 We may receive a portion of sales if you purchase a product through a link in this article.
Beyoncé's previous eras have been defined by standout fashion and beauty looks, for sure. There's the stripped-back tank and denim short-shorts of her "Crazy in Love" period; the iconic "Single Ladies" black leotard; the Lemonade yellow dress. But Renaissance, possibly the Queen's most ambitious project to date, has yet to deliver on much imagery. Given the star's status as a pioneer of the visual album, fans have been lamenting the lack of music videos since she dropped Renaissance in July. But even with the long-awaited Acts II and III still under wraps and little more than an album cover to feast our eyes on, Beyoncé's Renaissance style has already emerged.
Hints at the sartorial language of this new epoch of Bey have sprinkled down to the masses: teasers with some imagery, the July 2022 British Vogue cover timed to coincide with the project's debut. But really, the sonic world built by the pop phenomenon in 16 tracks is more than enough to nod to a dress code. Renaissance might just be the most thematically cohesive work of Beyoncé's career, one that gestures directly to a certain retro, flashy, and opulent club-wear aesthetic. The album speaks an evocative visual language with its groovy disco pop concept and rather lends itself to themed dressing for her forthcoming tour, a 40-city extravaganza kicking off in May.
Visions of decadent ballroom-inspired ensembles were certainly dancing in the mind of Balmain's Olivier Rousteing upon listening to the singer's latest work. The designer found himself so moved by the music that he approached Beyoncé for a haute couture collaboration inspired by the album, which he developed alongside the songstress herself as well as stylist Marni Senofonte. Rousteing's muse graced the cover of Vogue France attired in the fruits of their labor for their April issue.
Each outfit in the 16-look line is designed to embody a Renaissance track with its deft use of rich velvet, crystal embroidered bodices, and metallic pink modeled after the "disco-flavored groove" of the music. The pieces are in very clear dialogue with their source material — but while the execution is pitch-perfect, the collection won't be for sale, and sadly no fans will don the wearable art to attend Bey's concerts this summer. (And — if we're being real — it would cost a billion to look that good even if the items were shoppable.)
Balmain's "I'm That Girl" look.Parkwood Creative Team Photographer: Louie Banks
Balmain's "Move" look.Parkwood Creative Team Photographer: Louie Banks
Still, even before Balmain debuted their Renaissance line, fans were already dreaming of sartorial translations for the album. Essence features editor Brooklyn White-Grier prompted a Twitter discussion in August — which predated any info on the tour — asking the internet what they might wear to the fictional Club Renaissance. "Millie Jackson, Cher and Chaka Khan are definitely on my mood board," she says. "They're fierce women who were daring, fun, and free with a sense of style that reflected that."
Listeners weighed in on her tweet, dropping photos and gifs of Donna Summer, Cher in Bob Mackey, Prince, Diana Ross, Beyoncé's own silver surfer-esque Vivienne Westwood outfit, a mood board of pop culture references all born from one album.
For White-Grier, the album conjures images of pop culture bar-setters like Grace Jones and Moi Renee, as well as thoughts of their eras of influence — a time period fraught with crises that marginalized groups had to fight against to find their joy.
"When I'm thinking about the primary era that inspired Renaissance (the 1970s and 1980s), I think about Black women and queer people's creativity as resistance," she says. "The songs, the ornate clothes — there was so much devastation happening culturally, from the beginning of the AIDS crisis to widespread poverty to the crack epidemic, that at least in my mind, self-adornment and vocalization became a form of healing. Renaissance makes you want to wear sequin capes, cutouts, beaded gowns, fringe, glitter; things that catch the eye in the night."
As The New Yorker put it, Renaissance is "a work of sonic hyper-specificity with an egalitarian spirit. Stylistically, it's a tribute to Black dance music and to queer cultural touchstones ..." The Grammy-winning work speaks to club life through the ages: Studio 54 in its prime (the luminescent horse Bey straddles on the album cover is a pretty direct call out to Bianca Jagger), the world of drag ballroom competition (with tracks like "Alien Superstar" and "Pure/Honey"), and also to '90s-era house music (beats like "Break My Soul"). So it seems right that the Queen's masterwork evoked a slew of fashion trends from the last three decades of the 20th century in particular, with internet denizens imagining outfits of sultry silk, chainmail, and rhinestones galore. (Perhaps she's spurred something of a club couture revival, or just nailed a particular moment in the zeitgeist where we're all fantasizing about retro, dramatic party wear: Consider the chainmail á la Paco Rabanne as well as on Blumarine's AW23 runway, a "sequin orgy" at Rick Owens, and a slinky, sparkly vibe at PatBO. The references are myriad, but the key uniting factor is fun. This album is about a party.
And who fits the bill more than Retrofête, who have infused the party spirit into their very name? The etymology of the label roots it in the phrases for "vintage" and "party." A Retrofête customer takes the celebration with her, as she is a disco ball herself — many of the pieces feature sparkling rhinestones, sequins embellishments, and resplendent lamé.
The brand's co-founder and creative director Ohad Seroya feels that the vibe of his brand is in strong alignment with the Renaissance aesthetic. "To me, this album represents a love for fashion, dance, and culture from the '80s and '90s underground club scene," Seroya says. "It's about celebrating yourself and bringing people together from all different backgrounds. Just like Beyoncé, our muse is fiercely feminine, unapologetically confident, and commands the attention of any room she enters."
Beyoncé also felt the label was fitting for her Renaissance era, and offered her official seal of approval at the Oscars Gold Party she and Jay-Z hosted this March. "Just thinking about her wearing my design makes me emotional," Seroya says. "Being such a young brand, this is a moment we have always hoped for. To see our team's hard work come to life was a defining moment. She is The Queen, and to know that she is now a part of the Retrofête journey is so special."
Fashion Snoops's director of visionary Hallie Spradlin also named Retrofête as a perfect pick for Renaissance-inspired dressing. She notes brands like Attico, Rowen Rose, and Ester Manas as labels that fit the album's aesthetic, which she sees as part of the overarching "decadence revival" trend seeping into our sartorial culture.
"There's an energy of pure relief and release, liberation and expression, and unbridled joy and ecstasy in the album that is translating aesthetically and confirming our aforementioned forecast," Spradlin says. "Some of the trends we have started to see include a decadence revival, in which occasion wear re-emerges as a key category that includes revamped party wear that is reminiscent of previous times of excess, but elevated by new collisions of high and low styling as streetwear infiltrates traditional nighttime looks. Another trend we're seeing is the concept of embellish everything, from apparel and accessories to hair and nails."
She understands why the tour might get the costume party treatment, with the songs and the bits of visuals offering so much with so little. Spradlin sees the Studio 54 influences, with slinky silhouettes and psychedelic materials, but feels the album's array of references across the decades makes it almost "era agnostic."
"It's so interesting how aesthetics are being derived from the musicality of the album with only a very brief visual teaser, but I think that is credit to Renaissance in that the album seamlessly oscillates and flows between the genres that inspired such incredible and clear aesthetics in their own time, from disco to ballroom to funk," she points out. "Fans are running with those references and making them their own, mixing and mashing trends together as Beyoncé herself did on the album to create inventive and refreshing party looks to match the energy."
Another rising brand that speaks the Renaissance language? Poster Girl. The label loves to play with figure-flattering chainmail, a clubwear mainstay in the 90's and today, the perfect material to to put the "pop" in the retro disco pop dream aesthetic the album calls to mind.
Their micro metal-mesh is reminiscent of the silvery chrome Beyoncé wears on the album cover and jives with a number of looks she's worn since its debut. We can't possibly predict what we'll get with the visuals, but the Queen has certainly been rocking a lot of lustrous metallics in her Renaissance era.
Founders Natasha Somerville and Francesca Capper are party-girl whisperers for sure. Their glamorous, curve-hugging garments were made to sparkle under club lights, and sheer fabrics as well as daring cut-outs are certainly in Renaissance style, a trademark of which is, of course, showing some skin. The label has earned recent co-signs from Dua Lipa and Beyoncé collaborator/fellow H-town hottie, Megan Thee Stallion.
Capper and Somerville see a connection between their brand's aesthetic and the Renaissance ethos. The London-based duo are fans of Bey's work and admire her as a figure for her "powerful femininity combined with originality, longevity, and strength as an artist," they said in an email to TZR. They hope to see fans decked out in their creations for the tour, emphasizing the importance of something concert attendees can feel good and dance all night in.
"[We're] thinking the Barbi Jumpsuit covered in diamantes, or the Kai Jumpsuit if you are looking for a little more coverage," the designers say. "If you are looking to be the centre of attention in the crowd, we would strongly recommend the Barbara Mini Dress in crystallized Amethyst chainmail."
Seroya has a few Retrofête pieces in mind that he feels would be particularly Club Renaissance-worthy. "A current favorite of mine is our Ryha Leather Embellished Dress — a curve-hugging mini that exudes a fearless edge with its Renaissance-esque crystal studs," he says. "Pair it with our Icon Leather Embellished Jacket for a bold co-ord look. Our naked "barely there" dresses like the Bryson Dress are also an ode to the album — they push the boundary just enough and really empower you to step into the spotlight. The Audrey Top has that signature silver sparkle, but also cinches the waist with its corset-like construction. Made to celebrate the female form — what more could you want when dancing along to 'I'm That Girl'?"
Whether or not visuals drop before the tour begins next month, White-Grier knows there's plenty to pull from to put together an ensemble for the concert. Like the swarm of Hive devotees who weighed in on her thread, she's excited about the dress code the album nods to and is more than ready to celebrate, as suggested by the spirit of the album, in community with the Black and queer folks the music is inspired by.
"The allure of a 'Club Renaissance' — [which has] a strong visual identity even without any videos — makes people want to participate," she says. "We're in such a tense period with the pandemic, inflation, anti-LGBTQ+ legislation, anti-Black legislation... we need this celebration. Everyone loves a good party, and Bey is the best DJ out."
Get ready for the Beyoncé tour now, and shop the Renaissance aesthetic below.