Don't Panic, But High-Low Hemlines Are Having A Moment (Again)
We're just as surprised as you are.
Peter White/Getty Images Entertainment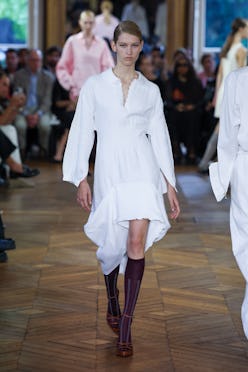 The majority of runway trends aren't necessarily reinventing the wheel (items like Loewe's balloon heels being the exception). More often than not, sought-after looks are riffs on once-buzzy styles from bygone eras, with interesting updates propelling them back into the spotlight. One example of this? The early '10s high-low hemlines popping up left and right on the Paris Fashion Week Spring/Summer 2024 catwalks. You read that right: Designers are offering up decidedly edgier, cooler reinterpretations of the mullet skirt... and you might find yourself surprised at how much you like them.
But first, about those early aughts skirts: I, for one, was a huge fan of breezy, see-through looks, namely from mall stores like Forever 21, H&M, and Francesca's (fingers crossed those photos never come back to haunt me). Of course, I wasn't the only one leaving the house rocking high-low silhouettes from 2011 to 2015 — Hollywood darlings like Selena Gomez and Taylor Swift famously endorsed the silhouette on the red carpets and stage.
In recent years, the mullet skirt's comeback has been quietly brewing. During the Spring/Summer 2022 season, for example, designers like Prada and Cecilie Bahnsen (seen below) presented modern versions of the style. And the following year, it continued to gain traction, particularly on the red carpet. Amanda Seyfried embraced the design wholeheartedly at the 2022 TIME100 Gala with her Carolina Herrera Fall/Winter 2022 number. A few months later, the label showed yet another iteration of the high-low skirt for Spring/Summer 2023, this time a vibrant floral gown.
Taylor Hill/WireImage/Getty Images
Courtesy Of Cecilie Bahnsen
If the Parisian catwalks this week are any indication, the look is destined to reach peak popularity very soon. And truth be told, I'm not mad about its comeback, given that these revamped versions are in no way reminiscent of what I (and probably many of you reading this) wore a decade ago. For starters, Sacai presented an intriguing take on the look via a deconstructed, utilitarian-like skirt. Meanwhile, Maison Margiela leaned into fall's "gloomy girl" aesthetic via a moody, witchy-looking leather mini dress, complete with an ankle-length train.
Victor VIRGILE/Gamma-Rapho/Getty Images
Courtesy Of Maison Margiela
Then there was Victoria Beckham, who displayed a feminine long-sleeve little white dress, which boasted a scalloped collar and embroidery. The look reads appropriate for a Sunday afternoon brunch reservation at Sadelle's, no? Last but certainly not least, Chanel tapped into the asymmetrical silhouette in, well, the most Chanel way possible — with a baby pink tweed dress.
Peter White/Getty Images Entertainment
Clearly, mullet skirts will be out in full force this spring — and it's easy to see why. Whether you've taken a liking to Victoria Beckham's ladylike approach or are eager to take the vampy route à la Maison Margiela, the piece is such a striking way to reinvigorate your warm-weather wardrobe. Plus, if you're torn between mini and maxi hemlines, it provides the best of both words. Sign us up.