Miu Miu's Spring 2024 Show Was A Nod To The Facebook Album Era
Who's ready to layer polos again?
Estrop/Getty Images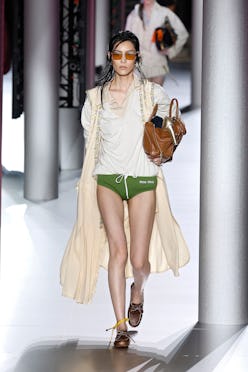 Low-slung board shorts, layered preppy polos, and itty-bitty mini skirts were the de facto uniform for teens of the early aughts (I would know, I was one of them). But the aesthetic, which was largely driven by the likes of Abercrombie and Fitch and Hollister back then, has been revived at the hands of Miuccia Prada on the Miu Miu Spring 2024 runway.
Held at the Palais d'iéna, the brand's October 3rd show drew a buzzy crowd of A-lister fans, which was reflected in the front row, where a mix of the current house ambassadors, including Emma Corrin and Sydney Sweeney, and the original Y2K influencer herself, Paris Hilton sat. It also marked the end of Paris Fashion Week — a fitting finale as the runway event has become of the season's hottest tickets.
Ms. Prada, who has focused more of her attention on Miu Miu since Raf Simons came on as co-designer at Prada in 2020, has seen great success with her namesake maison as of late. First launched in 1993, it has always been a favorite among staid fashion insiders, but recent viral styles (ahem, sparkly underwear) have attracted the attention of the chronically online as well. This collection held on to signatures that have skyrocketed the label to recent commercial success, such as super short hemlines (or eschewing pants and skirts all together) and multiple thin knit worn together. Silhouettes like bikini bottoms and wide-collared coats felt like a carry over from Fall 2023, but with a playful refresh via bold pops of tangerine and grassy green.
Much of the collection was piled on in effortless prep school fashion, as if straight out of the pages of the cult Japanese book Take Ivy. There was a sexiness imparted through, yes, the baring of skin, but also in the unfussy and unconstricted way that it's done, nary a piece of spandex in sight.
The clothes were accessorized in a stylishly haphazard way as well. Bags tucked tightly under the shoulder had jackets and heels spilling out, as if each model had rushed onto the runway with just moments to spare, unable to do the final moments of polishing and primping. This felt like an apt continuation of last season, when the prevailing beauty vibe on the catwalk was frizzy, purposely undone hair. Practical and co-ed chic, the shoes reflected this too-busy-to-be-bothered attitude: think leather topsiders, gladiator sandals, and loafers.
In a way, the styling felt much like a final nod to the early internet era, when Facebook albums were full of digital camera photos amassed after a house party. It was a time before there were filters or a social media feed full of stylized outfit shots, getting dressed for a night out allowed for personal experimentation, and a little bit of layered chaos. The overall mood of the outfits were both nostalgic, yet totally of the moment they came from — and if that's not a feat of fashion, nothing is.
Scroll below for key looks from the show.