Loewe's Spring 2024 Show Says, 'I See Your Quiet Luxury & I Can Do It Better'
Staples for the cerebral fashion fan.
WWD/Getty Images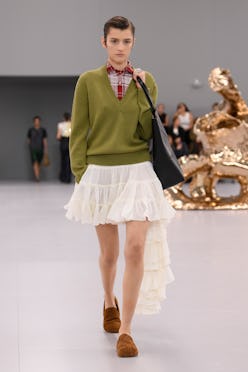 It takes a certain style type to wear Loewe. It's a person who loves incredibly well-made garments, yes, but still wants their wardrobe to say slightly more than they merely have good taste. They are looking for pieces with art world undertones, yet that still wink at arguable ridiculousness found within the high end clothing industry's inner circles. These balloon heels on my feet? Yeah, what about them?
This slyly knowing approach to getting dressed is why fans of creative director Jonathan Anderson keep coming back for more: He delivers on approachable avant garde fare each season. Yet whereas his past collections have often focused on exaggerated, sculpted silhouettes (anthurium dresses, puffed up Minnie Mouse pumps) to make an an impact, his Spring/Summer 2023 offerings for the house are all about subtle surrealism. There were rich suede outerwear silhouettes that appeared to a be a blazer from one side, and a long coat from the next, and pared back skirts adorned with a long sharp sewing pin speared through toward the top — something I am all but sure might cause a ruckus at TSA next fashion month.
The brand's explanation of this approach? "Reducing fashion to the silhouette, focusing on the outline, playing with the sections, altering the proportions," the show notes explain. "Looking from afar, and then looking close, zooming in on the details."
Knitwear was a standout element of the show, with long, cocoon-like — and possibly armless? — cardigans sent out as the opening looks. And while these particular items were visual catnip on the runway, it was the deliciously chunky sweaters that came later, all nonchalantly French-tucked into super high-waisted trousers (don't give up on them quite yet!), that I picture landing in the closets of editors and influencers. In general it felt like Anderson received the luxurious but wearable memo that seems to be circulating on the catwalks these days, and decided to do it on his own terms. Case in point: The smartly layered button-down and pullover combinations paired with flouncy mini skirts are ineffably easy to pull off, but a trailing bit of fabric to the side makes the combination feel considered and cool.
All this said, this was a Jonathan Anderson designed affair, so there were a few endearingly bizarre elements and fanciful flourishes tucked in. A long butter yellow gown, the second to last look in the line-up, was pinned at the top with what appeared to be a giant fabric swatch; a shirt and pants set in a similar color scheme was pulled together with such a complicated array of twists and knots, I could not help but giggle at the idea of someone sleepily trying to recreate the effect at 7am in the morning. There was, too, a lovely top made of sparkling floral embellishment (I can already picture a Cate Blanchett type pairing with high-waisted black tuxedo pants), and molten metal-like jewelry (developed in collaboration with artist Lynda Benglis) dripping from the upper ears and wrists of the models.
Even the most conceptual of combinations on tap were teamed with sturdy and surprisingly practical shoes, considering they came from the mastermind behind nail polish heel mules. Studded rhinestone flats (how very 2010s!), nappy house slippers, and grunge-y lug sole designs all lent an air of ease to these looks — much as, I imagine, they will with all manner of other outfits in six months. I, for one, am already picturing how amazing the chunky T-strap Mary Janes would be with my favorite denim skirt. But I certainly wouldn't say no to wearing them with the label's relaxed jeans and blazers either.
Keep scrolling for a selection of defining styles from the show.