The Stylist-Approved Way To Wear Open-Toe Shoes & Tights
Now every season is sandal season.
Courtesy Of Rebecca Dennett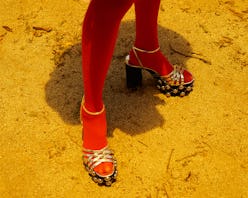 We may receive a portion of sales if you purchase a product through a link in this article.
If you're located on the East Coast (or anywhere the temperature dips below 50, for that matter) I'm guessing your footwear ratio looks something like this: 30% sneakers; 30% flats; 30% boots; 10% sandals. Because, really, you only have roughly 90 days out of the year to bare your toes before it's time to usher in your trusty cold-weather shoes — or, at least, that's what you probably thought. But what if I told you that you could continue wearing your favorite strappy pairs in the winter? Hear me out: Your mindset will completely change once you learn how to wear open-toe shoes and tights. (Even in mid-January? You bet!)
New York-based stylist Dione Davis is noticing more people testing out this look upon becoming aware the option to wear sandals outside the summer months is possible — and, more importantly, encouraged. "This [outfit] was something I touched on a lot during my time at Tibi," the label's former styling director tells TZR. In her opinion, the look is quickly becoming evergreen — meaning, it won't go in and out of the trend cycle as fast as, say, low-rise jeans. Additionally, editorial stylist Rebecca Dennett notes the combo has become increasingly popular among the street style set (in other words, expect to see it this fashion month).
But how does one master the polarizing combination? Davis shares her styling expertise: "Make sure your shoes fit properly; I have a narrow foot, so I have to put a lot of padding in my shoes in order to execute this look," she notes. (Those slightly big designer shoes you scored for a too-good-to-pass-up price? Maybe skip them for this.) Moreover, you'll want to carefully consider what tights you pick. First, ensure the transparency is weather-appropriate. "I would recommend wearing two pairs of tights [in the cold], or if you're going to be doing more walking, you can wear a pair of trousers over [the tights] for extra warmth," Davis says. And according to the stylist, a sturdy, high-quality pair that won't snag is key. Her top suggestions? Opaque, sheer, and fishnet.
Not only is the styling technique incredibly chic, but it's also good for the planet. "Being able to wear summery open-toe pairs all year round [means] you're getting more use out of your shoes in a sustainable way," Dennett explains. The stylist also says you get more bang for your buck — so go ahead, treat yourself to the Amina Muaddi pair you've been eyeing.
Don't let your favorite open-toe styles collect dust in the back of your closet. Ahead, six outfits to try out.
No Pants, No Problem
ICMYI: The no-pants look is quietly taking the fashion world by storm (blame Kendall Jenner). Therefore, don't be afraid to forgo your bottoms for a pair of printed tights. Take the look a step further by opting for statement-making shoes, like Loewe's buzzy rose-adorned heels.
Subtle Sparkle
RSVP'd yes to a winter event? Take a page from influencer Emma Fridsell's book and couple a sequin skirt with platforms sandals and black tights. If the environment is low-key, give the jazzy outfit a casual touch via a cool graphic tee.
Bold & Bright
Yes, there's a way to do this look without drawing extra attention to your feet. Achieve the emerging styling technique in a more streamlined way by opting for a pair of tights in the same shade as your shoes. Bonus points for an equally colorful blazer.
A Little Outdoorsy
The sporty sandals you wear on repeat in the summer? Yeah, you can keep them out after September. As Davis suggests, team the shoes with pants and tights for an extra layer of warmth.
Stick To Neutrals
Above, Davis exhibits a pared-back approach to the buzzy styling technique. She sticks to a neutral color palette, opting for a black lace dress, white tights, and cream kitten heels. Minimalists, screenshot this outfit and keep it in your camera roll.
Platform Craze
The platform trend is continuing to pick up speed — so give your favorite open-toe pair a spin during the colder months. Pair the chunky shoe with bright tights and an of-the-moment skirt set.