It's Boot Season, Baby — These Are The 7 Trends Designers Want You To Try
Put your best foot forward this fall.
@vagabondshoemakers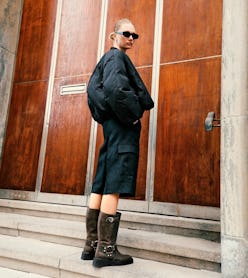 We may receive a portion of sales if you purchase a product through a link in this article.
When it comes to 2023's must-have shoes, much of the fashion conversation has been centered around flats. To recap: Mesh, toe-baring silhouettes took social media by storm these past few months, while nostalgia-inducing Mary Janes have crept back onto the footwear scene. And though these styles certainly aren't losing momentum, it's time to switch gears because boot season is officially here. This fall, the top trends run the gamut from edgy to timeless — in other words, there's something for every sartorial taste out there.
Shopbop's Fashion Director Caroline Maguire has noticed two major themes within this season's best boots. "On the fall [2023] runways ... they are going higher, and suede is in this season," she tells TZR. "From high sock to high shaft, heights are rising all around, and suede is the go-to fabrication (in addition to classic leather)."
And while chunky silhouettes have had a strong sartorial grip on the style set over the past few years, Lauren Bucquet, founder of Los Angeles-based footwear brand Labucq, believes things may be taking a U-turn. "I think [boots] are going to get more slim and sleek," she predicts.
On a similar note, shoe designer Nicole Saldana foresees Phoebe Philo's looming brand launch (just a few more weeks, folks!) pushing the ongoing quiet luxury aesthetic further forward — and that extends to footwear, too. "[Think] subtle fabrics that are qualitative and rich without being too loud." If Philo endorses a specific look, it's safe to assume the fashion industry will immediately jump on board, so keep your eyes peeled for what she comes out with.
Until then you'll find seven up-and-coming fall 2023 boot trends, as predicted by experts, to start shopping now.
Buckle Up
Designers all agree: Moto boots are the look du jour this season. Vagabond Shoemakers, for instance, just launched its Cassie style, which creative director Maria Olander says was inspired by the motocross aesthetic. "Biker boots have been popular for a while, so the sleeker, sportier moto boots will be a fun update to the trend," she explains. In agreement, Laura Villasenin, founder and head of design at Miista, says the edgy silhouette is currently leading the pack. "We are excited about our new heeled ones, made with leathers with color that becomes more beautiful as it gets worn," she says, pointing out the brand's latest biker-inspired Dionira look, pictured below.
The Bees Knees
Get ready to see an onslaught of knee-high silhouettes saturate the market because, according to insiders, everyone is flocking to the look for fall. And it's easy to see why: "This particular style works well with a lot of different silhouettes, like miniskirts, which are, obviously, trending," Bucquet notes. The expert also points out that you can wear a tall boot all winter while still looking a bit feminine and sexy. "It's one of those styles you can put on and transform your whole outfit."
Go For A Ride
Tap into your inner horse girl this season because Marina Larroude, co-founder of Larroudé, points to riding boots as a key player in the shoe department. "Although it's such a classic silhouette, the young girls are wearing it with blazers, shorts, and tights." The New York-based label's version of the look is the Anne Boot, which was inspired by Princess Anne and her sleek equestrian stompers.
Shine Bright
If you're itching for something flashy, you're in luck: Manu Atelier's co-founders Merve Manastir and Beste Manastir Bagdatli tell TZR that, "We will continue to see more playful and iridescent colors for more attention-grabbing footwear." And they're not the only brand leaning into high-shine boots for fall. "We're doing silver shoes this season, and they've done really well for us so far," says Bucquet. "Silver, metallics, and patent leathers with a little shine and texture [will be big]."
Fair & Square
The '90s are still influencing our wardrobes today, and that goes for footwear as well. To be specific, Bucquet says her label's customers are responding well to square-toe shapes. "They're really comfortable, easy, and wearable while still looking fashion-forward."
New Neutrals
Black boots are always a good idea, but should you want to shake things up a bit this season, Kerry Norlin, Dolce Vita's President, invites you to give another neutral a try: deep cocoa tones. "We're loving rich browns, as seen in our favorite Auggie Boot in chocolate." Snag the style in a luxe leather look, or take Maguire's advice and go for an of-the-moment sumptuous suede texture.
A+ Ankle
No, knee-high fits aren't hogging all the attention right now — ankle boots are a sought-after choice, too. Work the style into your fall footwear lineup via an exciting print, vibrant hue, or understated neutral — really, you can't go wrong with any option.