The Thongkini Trend Is Brewing For Summer & Kate Hudson's All About It
She embraced the look at the pool.
@katehudson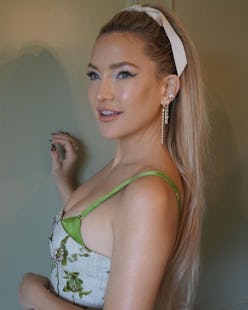 We may receive a portion of sales if you purchase a product through a link in this article.
As we grow closer to summer, the dream of that long-awaited vacation to the Hamptons or Europe, starts to feel real for many of us. It seems that celebrities, however, are already taking advantage of the downtime and setting their inbox messages to OOO. This includes Kate Hudson, who was spotted hanging out at the pool in an undisclosed location. For her lazy day by the water, Hudson wore a thong bikini bottom and shared a cheeky photo of herself on Instagram with the caption: "Suns out, buns (and huns) out ☺️☀️ #summerready."
Indeed, the actor is embracing all those feel-good endorphins you get when your only worry is reapplying more sunblock, and not responding to Slack messages. (Not sure if Hudson is on Slack, but I digress.) In the photo, the actor strategically used her arms and book — she's reading Lessons in Chemistry by Bonnie Garmus — to cover up her chest as she was, presumably, sunbathing sans bikini top to avoid those dreaded tan lines. If you follow Hudson on Instagram, you know she's not afraid to bare it all for the cameras. She's often spotted wearing a classic bikini at this time of year, so an adventurous thong style bottom is not out of character for her.
For those unsure of what the design entails, a thongkini resembles a traditional bottom from the front, but in the back, it features a thin strip of material designed to show off as much skin as possible. Hudson isn't the only one bold enough to give this look a try, a lot of other stars in Hollywood have embraced this sultry style as well. Back in April Kendall Jenner snapped a pic of herself in a floral design and her older sister Kim Kardashian has certainly rocked the thong bikini on multiple occasions. Lizzo, too, is often seen wearing the cheeky bottoms while on vacation.
As you fine-tune your beach and pool plans for this summer, consider giving the thongkini trend a try. Below TZR has gathered several styles to shop, and included the coordinating bikini top so you can get the full set.