Why I Refuse To Give Up My Granny Panties
Despite living in an exposed thong kind of world.
@negativeunderwear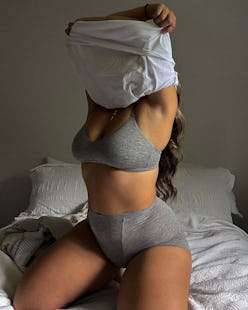 One might say we're in the midst of a thong renaissance. For the first time since Paris Hilton and Britney Spears were regularly hitting up Kitson with whale tails peeking above their low-rise Juicy track pants, stars and tastemakers — and more than a few of my friends — are opting for the butt-baring underwear, oft on display over a shockingly low waistband or through sheer pieces. Kylie Jenner, Hailey Bieber, and SZA have all flaunted such combinations in one way or another on social media, and Dua Lipa is such an ardent thong fan that it was a key component of her much-buzzed-about Versace collaboration. The look is rampant within plenty of other recent collections as well: Jacquemus, Knwls, and Ludovic De Saint Sernin all featured the silhouette at their Spring/Summer 2023 shows.
I, on the other hand, am a granny panty wearer and enthusiast. And I can't help but feel torn these days. Should I be swapping out my big panties for tinier alternatives? Or — gasp — even a G-string?
I've tried. But no matter how many pairs of colorful Parade thongs I order or cute lacy underwear samples I test out for work, I always resort back to my good ol' (and when I say ol', I literally mean years old) classic briefs. What can I say? Larger, no-frills panties feel like wearing my own personal cotton security blanket. And although many folks champion the thong for creating a smoother look under clingy fabric, I could honestly care less about that: I will choose VPL over wedgies any day of the week.
Reassuringly, I'm not alone in my affinity for comfy and covered-up underwear. TikTok validates my love with more than 25 million page views on the hashtag #grannypanties. Over the last year or so, viral clips of the underwear staple have come from creators like Rachel Kae Jenkins, who shows off her haul of seamless briefs to more than 446,000 viewers, and Joe (aka @joeycrackdadon), who has asked her followers if they prefer thongs or granny panties. (Spoiler alert: The majority of parties involved emphasize that they do, in fact, prefer the second option for its superior backside comfort.)
And while, yes, many labels are leaning into Y2K-inspired lingerie looks, almost boxer-like briefs are big on the fashion scene as well. Just look at the current exposed underwear trend, be it the nostalgic nod to minimalist '90s undergarments seen on Miu Miu's Spring/Summer 2023 runway or fuller-coverage underwear worn under see-through pieces by fashion it girls like Jenna Ortega, Lori Harvey, and Olivia Rodrigo. Even Drew Barrymore has claimed her support for the granny panty! We've also seen plenty of zeitgeist-y lingerie brands embracing the humble brief, including Kim Kardashian's Skims and Rihanna's Savage X Fenty lines, which balance their more overtly sultry offerings with sleek and smooth bikini bottoms and boyshorts.
But even with these encouraging examples, I often feel embarrassed about my own panty preference. "Might be because yours have holes in them, India," my aunt tells me over the phone from her Memphis home. She's not exactly wrong, per se — I still own underwear, especially granny panty designs, that I've had since my early high school days. But when I told her about my personal deep dive into the classic brief and why I can't quit it, our short conversation turned into an extensive 20-minute discussion.
Unlike me, my aunt says she prefers to switch to her thongs from time to time. "I wear them first of all because I can," she emphasized since she's also now 45 years old and refuses to be boxed in by age-adjacent expectations. "I feel like I wear them the most when I want to be sexy or if I feel like being fun and cheeky." She sees underwear styles as interchangeable, depending upon her mood at the end of the day. "I wear my boy shorts, too, when I'm feeling a bit cheeky but still want to be comfortable. It's up to me."
My granny panties feel more like protection. They make me feel safe as accidents, like my period, can happen at any given moment. And as someone who often wears dresses and now lives in New York City, I wear full-coverage briefs layered under shorts so I'm protected from the occasional wandering eye on public transportation. More times than not, I think about them as a measure of utility than an aesthetic choice.
According to my friend and editor at Harper's Bazaar Bianca Betancourt, though, there are plenty of ways for the option to look and feel appealing. "Opting for sheer colorways, lace detailing, and high-cut iterations makes the controversial style way less frumpy," she tells me over text. "Brands like Parade and Cou Cou Intimates have great versions." Cortne Bonilla, freelance writer and editor, also agrees with Betancourt's sentiments, as she tells me via DMs that she, too, prioritizes comfort, with her favorite briefs being from Kye Intimates. "I spent years when I was younger running around in sky-high, teetering heels, tight jeans, and itty-bitty thongs, [so now] the ultimate luxury for me as an adult is to be comfortable at all times," she says. "Beloved new brands like Kye Intimates and Cou Cou are the epitome of what women want these days — feminine, soft, easy!"
Although my more modest underwear comes in clutch when I'm menstruating, I truly feel most like myself in brief, and the idea of investing in cuter ones is an appealing one. Feeling comfortable, in my opinion, is the greatest thing anyone can do for themselves. I know that a fashion writer career can look glamorous on the outside, but it's a lot of running around and hunching over a laptop on a deadline. On most days, frankly, I don't want to be photograph-ready or have fabric wedged in between my cheeks.
That doesn't mean, of course, I can't understand the allure (at least in theory) of barely there undies. Trust me, I've forced myself to try them time and time again in the hopes of making them my go-to. Once, while interviewing Hannah Richtman, founder of New York's vintage shop The Break and creator of the viral Gush thong, I found myself wrestling with what I wanted and what I thought I should want — i.e., the sultry little underpinning that every downtown-cool girl was wearing. But since I've come to the conclusion that it's OK to appreciate the option that a thong provides without partaking. Maybe they're your thing, but they sure aren't mine... and that's OK!
In the same way people channel power by wearing G-strings and other revealing undergarments, I'm now teaching myself how to feel confident in the covered-up lingerie that makes me feel my best. Women's underwear, contrary to popular belief, needn't be revealing to make you feel good, and these days, I am most self-assured in a pair of big briefs. At the end of the day, your underwear preferences are for you to decide regardless of which way the trend tides of turning. Maybe my granny panty collection is outwardly a little staid (and occasionally frayed), but I refuse to apologize for it anymore. As Bonilla puts it: "I refuse to wear thongs. It's either a bigger brief or nada."