Emma Rosenblum's Debut Novel 'Bad Summer People' Zeroes In On Fire Island Style
It's poised to be summer's top beach read.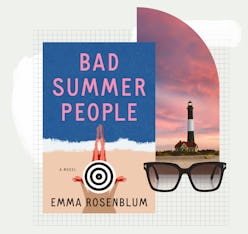 We may receive a portion of sales if you purchase a product through a link in this article.
Best friend betrayals, secret affairs, a mysterious murder — BDG's Chief Content Officer Emma Rosenblum's debut novel Bad Summer People is rife with steamy drama. Set in the fictional Fire Island town of Salcombe, the page-turning book, which releases on May 23, focuses on scandals in an affluent summer hot spot. "It's about people in a wealthy community, and they care about outward appearances in every which way," she tells TZR over a Zoom call. "This is including the way that they present themselves with clothes, accessories, haircuts, and their skin." Specifically, the author honed in on three style-minded (and slightly unhinged) female characters in their forties — Lauren Parker, Jen Weinstein, and Rachel Woolf — who flock to the well-off beach area in Fire Island, a top vacation destination for New Yorkers between Memorial and Labor Day weekends.
Lauren, for instance, travels to the island from her four-bedroom apartment on Park Avenue in NYC's Upper East Side neighborhood, where she lives with her husband Jason and their two young children, Arlo and Amelie. Then there's Jen, a psychologist located in Scarsdale, Westchester, with her spouse Sam (who has been best friends with Jason since childhood) and their three kids — Lilly, Ross, and Dara. And Salcombe's resident gossiper Rachel, the only single in the group, calls Manhattan home, too, and resides in a one-bedroom apartment.
When they're all together in Salcombe for the summer, the trio regularly gathers at the town's yacht club, tennis courts, and each other's lavish summer homes. While at these various locations, Rosenblum calls out specific labels the female characters are seen in, including luxe boutique brands like Gabriela Hearst, Frame, Celine, and Lacoste. In other words, as the author notes, the characters are conscious about how their peers view them in Fire Island; therefore, they strive to step out in the most elevated, expensive-looking items they can find.
While we're on the topic of Fire Island, for those unfamiliar with the real-life vacation spot, let's start here: According to Rosenblum, the area is essentially a low-key version of the Hamptons, another summer hot spot for New Yorkers. The biggest difference? Fire Island is quiet and laid-back, whereas the Hamptons draws in celebrities — looking at you, Beyoncé and Jennifer Lopez — and socialites alike. Even 20-somethings who may not be in the financial state to vacation in the Hamptons still want to be part of the scene and will rent out houses with a big group of people (and, obviously, share photos on IG of their overpriced cocktails from Montauk's social media-famous The Surf Lodge).
Moreover, Rosenblum mentions the Fire Island locals' pared-back yet luxe sartorial choices. During the day, residents break a sweat on the tennis courts wearing cute athletic dresses, and by night, they're mingling at the yacht club in breezy linen pants and an understated tank top. Rosenblum also adds that you can't wear heels because of the boardwalks; one must hit the town in flat silhouettes.
Ahead, TZR picked Rosenblum's brain on how she envisions each female main character dressing IRL. Should you be vacationing in Fire Island (or really, any beach) this year, look to these three fictional leading women, who all have different styles, as your sartorial summer muses.
Lauren Parker
Lauren Parker, an Upper East Side mom, is the queen of Salcombe (in fact, Rosenblum compares her to Gwyneth Paltrow). She's not afraid to show off her sexiness in a skin-baring look, especially around the town's dreamy new tennis coach, Robert Heyworth. Rosenblum says Lauren is perhaps the most designer-driven of the friend group. "She is very aware of every label she's putting on," the author notes. "Her daughter's completely dressed in Stella McCartney Kids." A few luxury labels Lauren would gravitate toward, according to Rosenblum, are Nili Lotan, The Row, and Celine.
Jen Weinstein
The other female main character is Jen Weinstein, whose style is much more understated and far less sultry than Lauren's, explains Rosenblum. A Westchester resident the rest of the year, Jen often taps into the quiet luxury look. Translation? She isn't one to sport in-your-face designer logos. "In one scene, I described her as wearing a belted white shirt dress with just a simple chain accessory," Rosenblum says. "So imagine that [look with] no label, but still expensive."
What would Jen be donning if you bumped into her at Fire Island's yacht club or at a casual beach happy hour? Probably a breezy white Max Mara dress, high-shine Brunello Cucinelli sandals, and a sleek Yvonne Léon necklace.
Rachel Woolf
The only single one in the squad, avid tennis player Rachel Woolf has a somewhat fraught relationship with fashion, according to the author. "She feels very intimidated by the other women's fashion sense, and also, she's not quite as wealthy as they are, so she can't afford to wear these labels," Rosenblum explains. Don't be mistaken, though: Rachel does try her best to look cute, even if she doesn't have the means to fill her closet with high-end designers like her two friends, Lauren and Jen. Rather, the 42-year-old wears contemporary yet sought-after labels like, for instance, J. Crew.