J.Crew's Summer Dresses Take The Guesswork Out Of Getting Ready
Editor-tested and editor-approved.
Marina Liao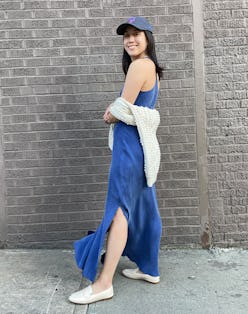 We may receive a portion of sales if you purchase a product through a link in this article.
Finding a reliable and cute fashion item always feels like hitting the jackpot — especially when temperatures are starting to creep up and easy, breezy silhouettes are essential. But if it's been awhile since you've refreshed your warm weather wardrobe with new pieces, you might be a bit stuck on where to start your search. Don't fret though, as TZR editors always have your back. Our suggestion this season? Give the new summer dresses at J.Crew a try. If you weren't aware, the retailer's been having a moment lately on social media, with fans loving its Womenswear Director Olympia Gayot's personal style — she wears loads of J.Crew, of course — and the brand's throwback vintage pieces (the rollneck sweaters are back!).
Thanks to all the nostalgic internet chatter, we decided to pay our beloved friend a visit and perused J.Crew's latest dress options. Everyone on the TZR team had a different wardrobe need in mind — some wanted a go-to for special occasions while others sought out laid-back designs for a weekend stroll in the city. See how this mission went ahead, where our testers have shared their favorite finds, as well as how to wear said items right now. The outfits may just inspire you to pick up a style or two for yourself.
A Look For Sliding Into The Weekend
"I styled my piece on a Friday afternoon after an extremely hectic week, which meant my patience for any outfit that doesn't center around a T-shirt and trainers was absolutely zero. Luckily, my pick — the Gwyneth V-neck slip dress — was super easy to dress down with a bright white tee and my go-to gray New Balance sneakers. Sparkly silver socks and a playful turquoise bag make the combination fun enough to wear to an early happy hour (which, these days, looks more like ice cream with my kids) the second I send that last email before signing off for three days." — Alison Syrett, deputy fashion editor, TZR
A Dress For Spring Affairs
"I haven't had an Easter dress in years — decades even — but the joyful holiday felt like the perfect occasion for this vibrant puff-sleeve frock, sans cheesy crinoline and matching hat. It worked nicely for church and dinner with family, but can also be utilized for a range of spring events and activities like wine-tasting and outdoor weddings. For a more laid-back take, I paired the dress with black suede Western-style boots and dainty accessories. For more formal affairs, I'd swap in some heeled sandals and maybe a structured blazer on top. Moral of the story: This floral number is a catch-all." — Angela Melero, executive editor, TZR
A Summer Day In The Park Look
"I live in slip dresses come summer (I own at least 10 different styles...), so I was immediately drawn to the brand's new racerback slip for the season. The material feels smooth like velvet, but not as thick or heavy, which gave it some nice weight on my body. Since the piece feels super minimalist, I wanted to dress it up with a textured sweater — that was draped over my shoulders on this day because it was 80 degrees — and a matching pair of cream-colored ballet loafers for color coordination. I added a New York Mets baseball cap, which I recently bought at my first baseball game ever, as my final accessory to give my outfit that laid-back sport-meets-prep feel. I felt dressed up, but not overly so in this ensemble as I took a post-work walk around the park with my dog." — Marina Liao, senior fashion news editor, TZR
A WFH (Or Work From A Coffee Shop) Outfit
"Aside from black and gray, I'm typically not one for neutrals, but this brown shirtdress may officially usher me into my cocoa era. Despite steaming it twice, the linen was quick to wrinkle, but I think that contributes to the relaxed look and feel. Initially, I planned to go with a brown shoe as well to make it a monochrome moment, but ultimately I chose strappy black flatforms with silver hardware for a bit of edge as well as some height to balance the lengthy hemline. I completed the look with my trusty red EDAS Maria Bag and go-to gold jewelry. An ideal look for a day of co-working in the city." — Samantha Scott, newsletter editor & strategist, TZR