Gwyneth Paltrow Is Masterful In Styling Out Her Chic Courtroom Looks
Does anyone need a business-casual outfit idea?
MEGA/GC Images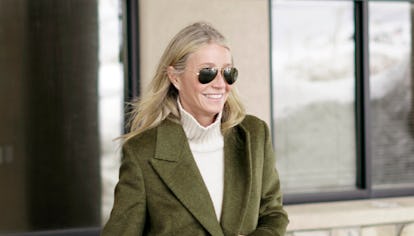 We may receive a portion of sales if you purchase a product through a link in this article.
Oh Gwyneth Paltrow, anything the actor-turned-health guru does gets people talking, and rightfully so. Since launching her wellness site Goop in 2008, the 50 year old has catapulted into the spotlight for her, uh, interesting methods and remedies. Jade eggs, bio-frequency healing stickers, bee venom therapy — need I go on? That said, leave it to the star to turn a ski collision trial into a social media sensation and fashion spectacle. Indeed, Paltrow's serving chic courtroom outfits like the Hollywood icon she is.
In case you're out of the loop on her closely-followed trial, allow TZR to provide you with the background. In 2019, Terry Sanderson, a retired optometrist, sued Paltrow for $3.1 million, accusing her of crashing into him at Park City's Deer Valley slopes in 2016 and causing him a concussion, brain injury, and four broken ribs. But, the wellness aficionado claims the 76 year old actually ran into her. The gripping trial officially kicked off on March 21 in Utah — and yes, the internet is flooding with reposts of Paltrow's meme-worthy one-liners and hilarious facial expressions. (If you don't have TikTok, we'd recommend you download the app, like, right now.) And on March 30, the jury found Paltrow not at fault for the crash and awarded her $1 — yes, you read that right.
As for Paltrow's trial outfits, she took to the stand in luxurious ensembles that many are comparing to the Olsen twins' understated, polished style, which makes sense, as fashion insiders are speculating some of her court looks are from The Row. More specifically, the Goop founder leaned into sleek neutral color palettes and sumptuously textured pieces — fall 2023 fashion inspo, anyone? Not to mention, viewers quickly realized the blue Symthson notebook Paltrow carried into the courtroom retails for a cool $250.
Are you invested in Paltrow's trial style too? If that's a yes, keep scrolling to see (and shop!) her best courtroom looks.
March 21
For her first day of court, Paltrow opted for a minimal cream-hued turtleneck sweater. (You've likely already seen the memes comparing her aviator frames to ones worn by Jeffrey Dahmer — Google his name... yikes is right.)
March 21
Who knew a trial could make someone smile? Outside the courtroom, Paltrow braved the chilly Utah weather with a grin while wearing a cream knit and an olive wool coat, which some say is from The Row. She finished off the look with luxe Celine lace-up boots.
March 22
Paltrow arrived on day 2 in a Bennett Belted Crewneck Cardigan from G. Label by Goop. She polished off the outfit with a gilded gold chain necklace and a roomy Celine Big Bag.
March 23
On day 3, she donned a sophisticated gray suit and dainty gold jewelry. The entrepreneur strolled into the courtroom with the aforementioned notebook in one hand and a gigantic glass water bottle in the other.
March 24
Paltrow ended the week in a G. Label by goop polo sweater and lug-sole Prada boots.
March 27
After the weekend break, the wellness enthusiast returned to the courtroom, where she layered a soft black cardigan over a crisp white button-down.
March 28
On day 6, Paltrow offset a romantic bow blouse with a pair of edgy leather pants. For her shoes, she went with Celine's lace-up boots again.
March 29
A LBD makes for an elevated court look, according to the 50 year old.
March 30
For the last day of her trial, Paltrow traded her neutral looks for a rich royal blue velvet blazer, which she layered over a striped button-up blouse from The Row.