The FRAME x Julia Sarr-Jamois Collection Provides All The Vacation Pieces You Need
Wear while sipping on your fruity drink.
Courtesy Of FRAME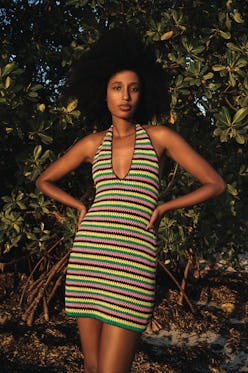 We may receive a portion of sales if you purchase a product through a link in this article.
FRAME, founded by Erik Torstensson and Jens Grede in 2012, has a reputation for providing consumers with luxe wardrobe essentials — think high-quality denim and sumptuous leather pieces. On top of its lauded everyday staples, the brand also has a history of partnering with well-known industry tastemakers, such as German model Claudia Schiffer and celebrity stylist Ilona Hamer. This month, look out for another buzzy name on the roster: On April 27, FRAME released a summer collection with Julia Sarr-Jamois, British Vogue's fashion director, marking her first ready-to-wear collab with a brand.
"It was a year-and-a-half-long process filled with so many designs, meetings, and fittings, but it was all the more satisfying to see it come together," she tells TZR over email about the creative partnership. "We started [drawing inspiration from] the pieces I loved from my own wardrobe and developed that into a truly unique assortment."
The 19-piece limited-edition lineup reflects the stylist's bold, eclectic style. "I love mixing textures, colors, and prints in my outfits, which is reflected in the collection," Sarr-Jamois says. For example, tie-dye is one of her all-time favorite designs, so she created a shirt ($348) and cami dress ($698) in the pattern, using earthy shades like forest green and navy.
"Julia and I were hanging out in Ibiza and her style immediately caught my eye," Torstensson adds, speaking to Sarr-Jamois' fashion sensibilities. "We talked about what it would look like for us to do something together and from there the collection was born." He felt her unique style perspective would bring a fresh element to FRAME's signature casual-cool aesthetic. Plus, Sarr-Jamois' long-time affinity for the brand didn't hurt, either.
Aside from using her personal style as inspiration for the collab, Sarr-Jamois says her trips to Jamaica also influenced the design process. The country, she says, has become a home away from home for her. During her time there, Sarr-Jamois was mesmerized by the stunning crochet looks and therefore worked the craftwork into the FRAME capsule — enter the Crochet Halter Dress ($698) and Crochet Bikini Top ($248). Her favorite way to wear the summery style? "I love mixing crochet with my city-ready denim to make it a little more fun," she says.
Other key looks from the assortment include camouflage pants, an asymmetric mini dress, and, reportedly the world's most expensive jeans (pictured above), which retail for — drumroll, please — a cool $11,995. "We wanted to create something truly unique and luxurious, the most expensive and highest quality jean on the market," Torstensson explains to TZR over email. "Working with Swarovski was the perfect embodiment of that vision. We haven't created anything quite like them before, but I'm confident they will be a standout piece in the collection." It seems like Sarr-Jamois is right on trend because bedazzled jeans are a major player in the denim scene this year, with brands like Area and Mach & Mach also putting their spins on the glitzy look.
And should you need help picking out which pieces to buy, you're in good hands — Sarr-Jamois has suggestions. First up is the Crochet Halter Dress, which she recommends wearing with the matching crochet hat. "The [tie-dye] cashmere cardigan is super special, with patchwork detailing and a little JSJ embroidery for that personal touch," she adds. If you want an item that carries sentimental value to Sarr-Jamois, go for the Baggy Low-Rise Straight jeans. They are based off an old pair from her closet: "We reconstructed and reimagined them to create a pair with crochet detailing," she says.
Without further ado, shop the FRAME x Julia Sarr-Jamois limited-edition collection below.