Barbie Ferreira Is On A Mission To Make Flip-Flops Fashionable
Chances are she'll make you a convert.
Courtesy of Havaianas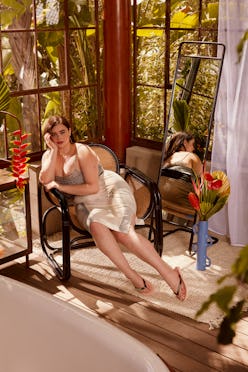 We may receive a portion of sales if you purchase a product through a link in this article.
There are myriad reasons why Barbie Ferreira is the ultimate partner for beach footwear mainstay Havaianas. First of all, both the actor and the brand have Brazilian roots. (The New York native's parents emigrated from the South American country.) Secondly, she's been sporting Havaianas since she was barely able to walk. There's also the not-so-small fact that she's become a bona fide style star, thanks to her notably fearless fashion choices. Her latest statement? Elevating flip-flops and slides. That's right, the Barbie Ferreira x Havaianas capsule collection will convince you to ditch the heeled sandals this summer for something a little more comfortable.
Ferreira — who has teamed up with other iconic brands like Levi's and YSL in the past — first teased the collaboration back in February, when she attended the Vogue ball in Rio de Janeiro in a goddess-y pink gown and veil paired with matching Havaianas, customized with ties that laced up her legs. From there, things moved quickly. "It was actually a pretty quick turnaround," she tells TZR. "I sent Havaianas inspiration pics, and they knew exactly what I was talking about. It was really seamless."
When it came time to create a mood board for her Havaianas line, the Unpregnant star didn't have to search far to find the muted tones and retro patterns she wanted to incorporate into the final footwear — they were already key components of another passion project: her home. Ferreira, who loves getting DIY with her decor by scrolling Facebook marketplace for vintage treasures and even painting murals on the walls, says she finds creative inspiration in arthouse films from the 1970s. "I like things that look like they're from a set in the 1970s, The Holy Mountain vibes," she explains, referencing the cult-favorite 1973 film by Alejandro Jodorowsky. "Since I was a kid, that was my dream, to live in a movie set. Every room in my house is a different vibe, different colors. A lot of it sticks to the earthy greens, browns, and yellows, which I put in the Havaianas collection."
Ferreira's wonderfully maximalist personal style also pulls from the past. The star of Blumhouse's upcoming House of Spoils admits that she has a folder filled with 1990s babes like Rose McGowan, Winona Rider, Bjork, and Drew Barrymore. She also was naturally influenced by her mom's own "Goth girl grunge" style from that era as well as by her grandma, whose closet and jewelry collection she's been raiding for years. "I love people who have their specific style and stick to it, and I always try to cultivate that in myself," she tells TZR. "I find what I love and then adapt it to the times."
Another key component to Ferreira's fearless approach to fashion? The fact that she grew up feeling like an outsider. "I never really fit in, so I didn't try to be like everyone else," she explains. "I've always dressed really wildly. As a kid that's a crazy choice because people think you're weird, but it's really worked out in my life. I've gone through phases of wearing clothes that are not cute, and I love just not caring — just going through it and learning what I like and what I don't." Indeed, one day the Euphoria star is showing up to the Met Gala in a pearl-encrusted gown and matching headpiece paired with Clara Bow-esque brows; the next, she may be attending an Acne Studios show in a distressed skirt suit and futuristic shades.
That said, Ferreira's work as an actor and model has also helped her hone her wardrobe. "Before I started modeling, I was in an era of wearing streetwear, like tracksuits that are five times bigger than [my size] and vintage Jordans," she says. "With modeling, I would do [bridal] and editorial, things that were more sophisticated, I think. So I've progressed into different eras in my life."
Acting gigs also play a big role in Ferreira's fashion phases. "I always dress as my character while I'm doing a project," she shares. "I was just in New Orleans for a couple months, and even before [filming], I got into character. The hair starts getting different, the clothes. Then soon as I got back, I put my old jewelry on, and it's like, 'OK, I'm back to who I am.'"
From sexy, punky Kat to kooky, free-spirited Bailey, Ferreira's past roles have certainly offered aspirational closets to pull from. But lately, the star's work has centered around a more relatable way of getting dressed. "I've been lucky enough to have these trendy characters, but now I'm leaning into more realism with different kinds of [roles] that are not actually trendy at all," the star of the upcoming Faces of Death remake says. "It's fun to play with that — it's not 'fashion,' but it's real."
So has Ferreira — ahem — borrowed anything from the set that's made its way into her closet? "Thankfully, a lot of department heads will give me [clothing from the set], so I actually kept a couple things from my last movie," she explains. "[The character in my upcoming film] works in an office, so it's more denim and that kind of stuff." Many of her looks from Euphoria, though, came straight from the actor herself. "[Costume designer Heidi Bivens], who is like a genius, would come to my closet and see what would work because it was all about creating a real aesthetic," she explains. "So I've gotten those back!" But the thing that finds its way back to Ferreira's trailer most often are actually the undergarments she wears on set. "I tend to steal a lot of underwear by accident," she laughs. "I get home, and I'm like oh sh*t, I have like three pairs of thongs!"
Speaking of thongs (see what we did there?), the Barbie Ferreira x Havaianas capsule collection includes six flip-flops ($34) and three slides ($44) in a variety of '70s-inspired colors and patterns. In the dreamy campaign shoot and video, the model and actor dresses up the beachy footwear with ensembles like a bra top and flowy skirt or a crocheted mini dress. She showed up to a launch party for the collection, though, in a tan sandal style paired with a sunset-striped Marni T-shirt dress — proof that the poolside staple is easier to wear in a high fashion way than you one might think. Of course, it helps if you channel Ferreira's summer mantra as well. "Beach, friendship, and good food," she says, setting the scene for which she'd like to wear her footwear creations. "I just went on a vacation so I'm on the beach vibe, which is very fitting for the Havaianas."