These Outfits Prove Samantha Jones Is A Style Icon In Her Own Right
HBO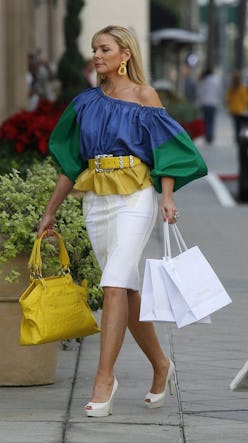 We may receive a portion of sales if you purchase a product through a link in this article.
Everyone knows Sex and the City's Carrie Bradshaw as the group's resident fashionista. Throughout the series six seasons, two movies, and show reboot, we've bore witness to her continued devotion to Manolo Blahnik shoes and experimental wardrobe choices (see her pigeon purse in And Just Like That... Season 2 for evidence). And while Carrie rightfully deserves her fashion icon status, she's hardly the only one in the group with amazing taste: enter Samantha Jones.
Samantha (played by Kim Cattrall) consistently wore head-turning, bold outfits throughout the original series. While she was arguably best known for her love of sassy pink pantsuits, she never remained tied down to one look. She also loved a sultry bodycon LBD, plunging necklines, and low-rise pants. Of course, we never see Sam's outfits in AJLT Season 1 — she and Carrie had a falling out and Sam now lives in London — but we assume her closet was likely filled with stylish European pieces like silky nighties and tailored, vintage blazers. For the show's second season, which will premiere on June 22, however, fans will finally get a better understanding of Sam's current style. Earlier last month, Variety announced Cattrall will reprise her iconic role and appear in one scene for the season finale of AJLT, airing on August 24.
In celebration of Samantha Jones' imminent return, take a look back at her most fashionable outfits over the years. We even included similar pieces to shop, should you want to recreate her early aughts outfits.
A Bedazzled Twinning Moment
In the Sex and the City 2 movie, Samantha's friends, including Carrie, worry that her two-toned sequin outfit might be a little too young for her. Moments later in the film, Anthony announces, "Mother of God, [Samatha's] wearing the same dress as teen queen Miley Cyrus." Instead of making the twinning moment feel awkward, Miley approaches Samantha and they snap an adorable photo together on the red carpet. As they both prove, sequins have no age!
A Punky Going-Out Look
Samantha was never one to shy away from making a bold statement with her outfits. On the final season of the series, she wore a punk rock graphic jumpsuit featuring the band New York Dolls for a night out on the town.
A Bright Pantsuit
Before Barbiecore fashion became a phenomenon, we had this pink power suit moment from Samantha in Season 4. The overall outfit spoke to the character's lifestyle as an influential PR exec and lady about town — she regularly wore such bold blazers and pants combos on the show. Although her exact Emanuel Ungaro set is unavailable to shop, you can find similar suiting dupes online.
A Nautical-Inspired Outfit
In Season 3, Carrie and Samantha demonstrate two different ways to do a striped look for summer. You can go the preppy route à la Carrie's strapless dress or the city chic route with Samatha's cropped shirt and white pants combination. You can't go wrong either way.
A Party-Perfect Dress
To celebrate with sailors during Fleet Week in Season 5, Samantha teamed her teal sequin dress with metallic boots and an eye-catching waterfall necklace. Really, she was ahead of her time: The whole look was giving mermaidcore years before it became a thing.
A Color-Block Combo
Samantha always looked polished and pulled together, even for a casual day shopping. Let's take a moment to appreciate how beautifully she's balanced the colors in this outfit: While her vibrant puff-sleeve top takes centerstage, a white pencil skirt and matching peep-toe heels act as the ultimate supporting players. A sunny yellow belt and bag effortlessly tie everything together.
A Luxe Winter Outfit
It's extraordinarily difficult to look cute and dress warmly in cold weather, but Samantha does so flawlessly in Season 4. While out with Carrie, she wore a furry trim white coat over printed trousers and a purple-plum sweater. The takeaway here? Invest in luxe outerwear and statement pants before next winter.