Sarah Jessica Parker Just Shared A Tidbit About 'And Just Like That...' Season 2
James Devaney/GC Images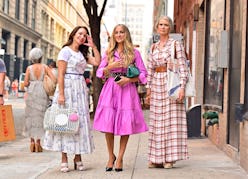 Hold onto your diet peach Snapples, lovers ⁠— more details on And Just Like That... Season 2 are imminent. The newest teaser came in the form of two Instagram photos from Sara Ramírez, who plays Che, Miranda's new love interest, and, naturally, Sarah Jessica Parker herself. Parker, who is not only one of the shows protagonists but also an executive producer, shared a zoomed-in photo of her script with just the title of the show and "Episode 201" written on it. Under the episode number, Parker put a purple scribble over the third line. "Just this much. For now," she wrote in the caption.
While the teasers likely brought joy to group chats everywhere, they left a lot of room for questions such as when Season 2 will air, how the characters' storylines will continue, and who might re-appear now that Big is gone and Carrie is moving out of her grief. (Cue, Aidan.)
To recap And Just Like That... Season 1, after almost 10 whole episodes mourning the loss of Mr. Big — and bringing their storyline full-circle by sprinkling his ashes at the Paris bridge where they reunited in the SATC series finale — Carrie ended up in a passionate make-out session with Franklyn, her silver fox podcast producer in the finale. Also in the revival, Samantha (Kim Cattrall) and Carrie aren't close friends anymore, with their relationship carrying on through iMessages and flower deliveries. Viewers never actually saw Samantha in-person, and the characters' on-screen friendship apparently mirrored the actors' real-life, rocky dynamic. Yet, in the last episode, there was another surprise: Carrie texted Samantha — who now lives in London — to see if she wanted to meet for a cocktail. When Samantha asked, "How's tomorrow night?" Carrie's reply was perfectly on-brand: "FABULOUS."
Elsewhere in the finale, Charlotte (Kristin Davis) threw a "they mitzvah" for Rock, complete with a trans rabbi, but when Rock refused to go up and read, Charlotte did the Torah reading herself. Miranda, who at this point has fallen head-over-heels for Che, decided to turn down a prestigious internship to follow them to Los Angeles for a few months as they shot a TV pilot and even dyed her hair red again. With Che gone, Carrie embraced the opportunity to start her own podcast titled, unsurprisingly, Sex and the City.
According to Variety, And Just Like That… Season 2 will pick up three weeks later. The hint that showrunner Michael Patrick King dropped to Ramírez, the actor told the entertainment pub, is that "The first season was judging a book by its cover, and Season 2 is about reading the book." Essentially, he wants to show the dimension of Che that people didn't see. In his own interviews, King shared that Samantha will remain a "text friend" to Carrie, as she was in Season 1. "Magically thinking, it's great to have Samantha," he said to Variety. "[But] I have no realistic expectation of Kim Cattrall ever appearing again."
Back in March, Instagram account @justlikethatmax shared the exciting announcement of a second season by releasing a short video montage that highlighted scenes from the first season. The clip featured everyone you know and love: ⁠Carrie, Miranda, Charlotte, Anthony, Lisa, Seema, Nya, and Che. (RIP Stanley.) However, the full cast and other specific details for And Just Like That... Season 2 have yet to be confirmed.
Stay tuned for more updates on Season 2 of the reboot. In the meantime, you can take a look through TZR's favorite SATC style moments or dive into a fashion analysis of And Just Like That... to take in the characters' sartorial evolution.
This article was originally published on