The Cast Details For 'And Just Like That...' Season 2 Just Got Juicier
Samantha Jones is back, baby.
James Devaney/GC Images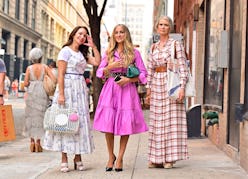 The hold And Just Like That... had on fans back in December 2021 was unreal. As we sat watching all the trials and tribulations of Carrie, Miranda, and Charlotte's lives, it was clear all the drama and new budding relationships wouldn't just end with the ten episodes. Thus, when And Just Like That... Season 2 details were announced, we were thrilled to get more screen time with our favorite gals. Since then, we've been keeping a close eye on any major developments ahead of the show's premiere date, June 22, and we have some exciting facts to share.
For one — spoiler alert — Carrie's ex-boyfriend Aidan Shaw, played by John Corbett, is back! Earlier this year, Sarah Jessica Parker and Corbett were pictured filming scenes together and in them, their characters were canoodling. Suffice it to say, there will definitely be some steamy and romantic drama to come in Season 2. Another major announcement to emerge this month is the return of Samantha Jones, played by Kim Cattrall. The actor will appear in just one scene during the show's finale (we'll take it!). Other snippets of info that were released include guest appearances by Sam Smith and Gloria Steinem while the overall storylines for Carrie, Miranda, and Charlotte are still under wraps for now.
Stay tuned for more updates on Season 2 of the reboot. In the meantime, you can take a look through TZR's favorite SATC style moments or dive into a fashion analysis of And Just Like That... to take in the characters' sartorial evolution.
And Just Like That... Season 2 Trailer
In a new trailer for the series, which Parker dropped on April 26 via Instagram, the clip shows the squad — Carrie, Miranda, and Charlotte — back together on new adventures. Following Mr. Big's death, Carrie says in the quick clip: "I've been having exit out of grief sex." Meanwhile, Miranda's budding romance with Che (played by Sara Ramírez) reaches new heights. And in the last few seconds of the video, you'll see that Carrie's ex-boyfriend Aidan pops back up in her life.
And Just Like That... Season 2 Cast
Many of the beloved cast members like Parker, Davis, Nixon, Ramírez, Sarita Choudhury, and more are back for Season 2 of the show. There will also be some exciting guest appearances in addition to Corbett's scenes. In an interview with EW, showrunner Michael Patrick King said that Candice Bergen, who played Carrie's editor at Vogue, will be making an appearance. "Bergen is back as Enid, which we're thrilled about because I always loved Enid," he said to the outlet. "She is a cold, wonderful diva of publishing." The last time viewers saw Enid was in the Sex and the City movie, when she featured Carrie in a bridal campaign. Gloria Steinem will appear as herself on the show as well as Sam Smith, though details surrounding Smith's scenes are sparse.
Perhaps the biggest cast shocker of all, however, is the return of Samantha who fans thought was gone for good. On May 31, Variety reported that Cattrall will appear in the finale of AJLT Season 2 in just one scene. The article goes on to say that according to sources, the actor "shot her dialogue on March 22 in New York City, without seeing or speaking with the stars of the series, including Parker, or with King." In addition, famed costume designer Patricia Field, who has not been working on And Just Like That, dressed Samantha for her scene.
And Just Like That... Season 2 Storylines
According to Variety, And Just Like That… Season 2 will pick up three weeks later from where Season 1 ended. To recap, for those who need a refresher, after almost 10 whole episodes mourning the loss of Mr. Big — and bringing their storyline full-circle by sprinkling his ashes at the Paris bridge where they reunited in the SATC series finale — Carrie ended up in a passionate make-out session with Franklyn, her silver fox podcast producer in the finale. Also in the revival, Samantha and Carrie aren't close friends anymore, with their relationship carrying on through iMessages and flower deliveries.
Viewers never actually saw Samantha in-person, and the characters' on-screen friendship apparently mirrored the actors' real-life, rocky dynamic. Yet, in the last episode, there was another surprise: Carrie texted Samantha — who now lives in London — to see if she wanted to meet for a cocktail. When Samantha asked, "How's tomorrow night?" Carrie's reply was perfectly on-brand: "FABULOUS." (In Season 2, Samantha will reportedly have a phone conversation with Carrie.)
Elsewhere in the finale, Charlotte threw a "they mitzvah" for Rock, complete with a trans rabbi, but when Rock refused to go up and read, Charlotte did the Torah reading herself. Miranda, who at this point has fallen head-over-heels for Che, decided to turn down a prestigious internship to follow them to Los Angeles for a few months as they shot a TV pilot and even dyed her hair red again. Additionally, in an interview with Variety, King said he wants to show the dimension of Che that people didn't get to see in Season 2. And with Che on the West Coast, Carrie embraced the opportunity to start her own podcast titled, unsurprisingly, Sex and the City.
This article was originally published on