Dua Lipa's Newest Nail Art Might Be Manifesting A Love Connection
@dualipa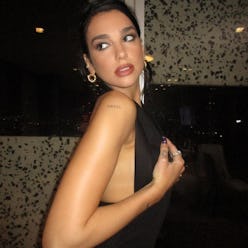 Part of the reason Dua Lipa is such a beloved style icon at just 27 years old is her willingness to buck trends, putting her own personal aesthetics ahead of what's (arbitrarily) deemed "in" or "out." Her influence is particularly strong in the nail world, where Lipa-approved manicures become worldwide crazes virtually overnight — she's partially to thank for the rise of colorful French tips and chrome nails, two of her favorite looks for years now. But for 2023, Lipa's gone in a decidedly more spiritual — though no less on-brand — nail art direction. Dua Lipa's pink aura nails are a fun, frothy take on the trend, adding her distinct stamp on a manicure style beloved by celebrities, it-girls, and street style stars alike.
Just days into the new year, Lipa traded in her siren-red nails for the decidedly more light-hearted aura art, but Lipa's version features a few things to note. While many aura manicures use airbrush tools and techniques to recreate their actual, personal aura, Lipa's strict adherence to baby pink and a soft, blue-toned purple looks more like a cool interpretation of the style — or maybe a manifestation technique. It's said that pink auras symbolize an open heart chakra full of tenderness, with a willingness to embrace love it all its forms. Now couple that information with the fact that it's Lipa's first mani of the year and it sure looks like she's inviting all kinds of love into her heart for 2023.
The long, glossy, almond-shaped nails were created by celebrity manicurist Michelle Humphrey, the creative mind behind many of Lipa's best looks. Humphrey — who also works with stars like Adele, Maude Apatow, and Cate Blanchett — shared a shot of the aura nails from Lipa's Instagram Story to her own grid, much to the delight of her dedicated followers.
Aura-themed everything was a major trend in 2022, and it shows no signs of slowing down in 2023. Several of Lipa's Hollywood peers including Cardi B and Megan Fox have already tried out the hazy, colorful manicure style, and it's safe to say they'll be joined by more than a few other A-listers before the winter is through.