Lizzo's Golden Highlights Are The Real Must-Have Accessory Of Summer
@lizzobeeating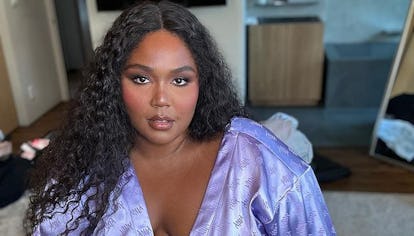 There's a reason you run around like a headless chicken in the final 48 hours leading up to your long-awaited vacation — every minute you spend getting waxed, highlighted, spray-tanned, pedicured, or braided is one less thing to worry about when lounging beachside. And, as Lizzo can surely attest, all that prep work makes for some seriously excellent travel photos — her Ibiza trip looks like one for the books. In the pictures from her luxe visit to the island, Lizzo's honey-brown hair and the warm, bright highlights framing her face feel as much like accessories as an oversized pair of sunglasses or a swingy tote. In fact, you might even call them essentials — they heighten the summery vibe that much.
Lizzo shared her new look on Instagram in between the engagements that seemingly brought her to Ibiza in the first place. After spending some time in Paris, she hopped over to the Spanish island where she showed off a new Yitty drop and still managed to find time to play mermaids in what looks like a private stretch of sea against the mountains. In the fresh seaside light, Lizzo's highlights are perfectly illuminated, especially the center-parted money pieces falling on either side of her face.
Lizzo's played around with soft brown hair colors a few times this summer already (her Palm Desert tour stop look was something particularly excellent), but this is her boldest set of highlights in a while. Based on other recent hair colors, including a blue-streaked number she tried out just before heading to Ibiza, it seems like she's been experimenting with custom wigs with bold highlights lately.
She also happens to be in great company. Lizzo's current shade of soft, honey-toned brunette is wildly popular at the moment with both celebrities and civilians, spotted on stars like Cardi B, Ciara, and Victoria Beckham. A-list hair colorist Matt Rez previously told TZR that these glamorous streaks can be achievable with a Midlight Technique. "It's the perfect tweak for warm brunettes and even dusky blondes, thanks to the cool reflecting effect of the streaks," he explained. He's right — "the perfect tweak" is the best way to describe the standout color combination.