Jennifer Lopez's Snowy Highlights Make Up The Ideal Shade Of Winter Bronde
@jlo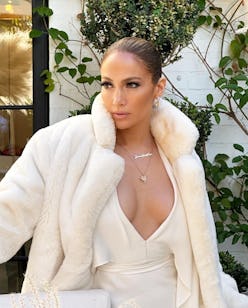 When you're blessed with Jennifer Lopez-caliber beauty, there's really only one issue: can any one feature stand out as your best when everything looks that good? Lopez herself is the perfect example — when she hits the red carpet, she's so head-to-toe perfect that it's hard to focus on a a single angle. However, when Lopez hit the LACMA Film + Art Gala with husband Ben Affleck on Nov. 4, it seems like the entire internet collectively feel in love with what appears to be a fresh new hair color. Lopez's highlights look far creamier and brighter than they did in October, like her long, layered waves got a dusting of snow on some sort of glamorous ski trip. Carefully interwoven with warmer, more caramel-adjacent shades as well as the golden brunette base color that anchors it all, her hair is a stunning blend of seasonal tones that just help further heighten that whole "J.Lo glow" effect.
Part of the reason her LACMA look is so particularly beautiful is the way her silk-and-lace Gucci gown mirrors the shades in her expertly-combined arrangement of highlights. When she arrived at the museum with Affleck, every element of her dress, accessories, and beauty choices fused together, casting a bronzey-gold halo from head-to-toe. Note the very light pieces peeking out in her lowest layers, wrapping around the warmer tones.
Conventional wisdom dictates an overall darker look for fall and winter, but Lopez — light many celebrities this year, in fact — are taking the opposite approach. Just compare this latest look with an up-close shot of Lopez highlights from June of this year (complete with a set of clip-in bangs):
Lopez's hair for the LACMA event was created by celebrity hairstylist Lorenzo Martin, one of her go-to professionals who also routinely works with other A-listers like Angelina Jolie, Gwyneth Paltrow, and Mariah Carey. While any exact hair color adjustments haven't been revealed, the classic waves Martin styled for Lopez at LACMA are ideal for showing off the shade blend. The large-barreled bends and loose spirals place the contrasting colors right next to each other, which really highlights (so to speak) their dimension and delicacy.
Consider bucking tradition and warming up your winter with a lighter, brighter color palette — Lopez is already leading the charge.