Jennifer Lopez's Elevated Take On Bedhead Looks Effortless, But Probably Took Hours
@jlo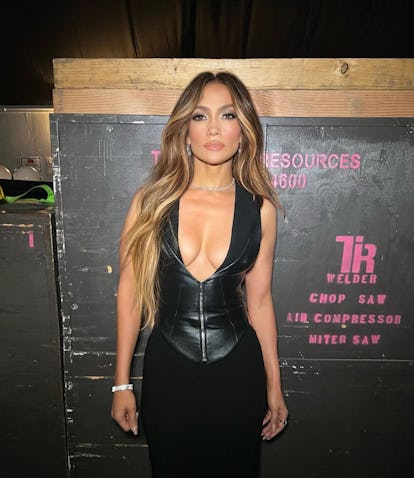 Though she's produced more than a few legendary single-and-free anthems over the years, Jennifer Lopez has always been what you'd describe as a true romantic. Just look at her multi-decade courtship with Ben Affleck — that's one real-life plot richer than any movie studio rom-com. Her love for love is never more apparent than with her fashion and beauty choices, though, including Lopez's loose updo at her most recent work event. She's always gravitated toward things like shades of pink and monogrammed nail art, but her head-to-toe look at her recent lingerie line launch is about as sweet as it gets.
In a brilliant move, Lopez paired the artfully undone updo with a very structured outfit, which is often key to ensure balance and polish. The event to collaboration her latest collection in collaboration with lingerie brand Intimissimi looked like a dreamscape straight out of Lopez's imagination, with tons of romantic florals covering the entire venue — and the guest of honor's Balmain jacket. For the occasion, celebrity hairstylist Jesus Guerrero delivered a tendril-accented twist, gently pulled up and back just above Lopez's crown. So stunning is the style, in fact, that Lopez was able to wear a version of it again later that evening for a dinner celebrating Brunello Cucinelli, this time with loose-flowing ends that spill down to her shoulders for an effortless effect.
Lopez's nighttime version of the style looks far more like a ponytail, but isn't quite one. Most of her long, highlighted hair is pinned up, with seemingly just a few swathes of ends allowed to flow down and intermix with her face-framing pieces. By nature, keeping your ends tucked in and secured, like her elegant twist at the Intimissimi event, always reads sleek — her evening hairstyle is so great because it brilliantly splits the difference.
Of course, credit must be given to those loose curls on either side of her face. They're shaped (and function) partially like ever-popular curtain bangs, but are much longer. The secret is the makeshift beveling right at the top of each piece, created with a hot tool. This effectively simulates the tapered shape of bangs without having to re-trim.
Armed with this star-approved knowledge, try the glamorous bedhead look for your next big night out — just remember to set some serious time aside for those "effortless" updos.