Mariah Carey's Red Hair Might Be Just For Halloween, But It Looks So Natural On Her
Transforming from one elusive chanteuse to another.
@mariahcarey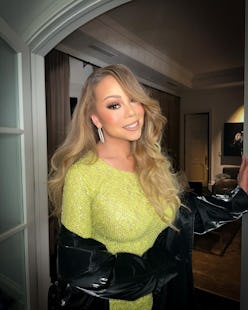 For years now, Mariah Carey's reputation as the single undisputed Queen of Christmas only seems to grow. Like an extremely glamorous Santa Claus, she alone decides when the holiday season and all of its assorted festivities is officially allowed to kick off. But Carey, as the world knows so well by now, is a woman of many talents — and spreading yuletide cheer is just one of them. Judging by Carey's red hair for her Jessica Rabbit Halloween costume, complete with cascading wig and a matching, ultra-vampy lipstick, she can go ahead and add this holiday to her roster, too, because she absolutely nailed it.
Unlike most celebrities, who unveiled their costume — or costumes, as was the case for so many stars — over the weekend, Carey dropped hers on Instagram late Monday night, complete with "#notyet" as her caption. But with a Halloween look this cool and detailed to keep them occupied in the meantime, her fans don't seem to mind waiting for Christmas. Her plunging red gown, covered in gleaming ruby crystals is a spot-on match for the one worn in 1988's Who Framed Roger Rabbit, but it's her hair-makeup combination that really takes her look to the next level of realism.
Rather than go for a bright, nearly-neon shade of red to look more cartoony, Carey instead opted for a more lifelike shade of rich red that, even in direct sunlight, actually manages to look pretty natural. Carey's had red-ish hair in the past, especially in the '90s, but this is the most overtly auburn — and it really pays off.
Of course, it's all complemented by the sultry makeup on her lips and eyes. Just like the character in the movie, Carey's long, fluttering eyelashes look even more alluring thanks to thin yet razor-sharp retro eyeliner and softly shimmering eyeshadow with a darker shade concentrated through her lid crease. And no Jessica Rabbit costume is complete without a classic shade of red on the lips — an essential for any chanteuse, IRL or animated.
Considering Carey went this all-out for Halloween, can you even imagine what she has in store for the upcoming holidays? Prepare yourself now, this will surely be a season to remember.