Jennifer Lopez Channels The Summer Of Love With Her New Bangs & Choppy Layers
@jlo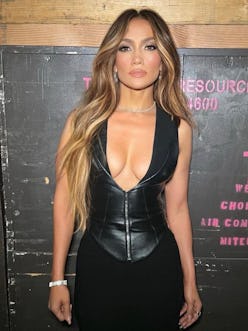 With one single post to her Instagram, Jennifer Lopez kicked off the kind of fervor and intense debate usually reserved for a presidential election or some pivotal FIFA match. Emotions are running hot underneath her earth-shaking new selfie, and that was probably her plan all along. In her just-shared photo, Lopez's blunt bangs are the obvious focal point. Long, highlighted, and expertly blended into her thick brunette waves, her fresh look is a major departure from the sleek, center-parted curtain bangs she usually wears both on the red carpet and in real life. But an aesthetics-focused celebrity of Lopez's status knows the versatile power of of a temporary change — and so do the hordes of fans arguing about whether or not her new bangs are the real deal.
Lopez and celebrity hairstylist Lorenzo Martin shared shots of the bangs on their separate pages, offering different selfie vantage points. In both, though, you can get a clear look at the long, lash-grazing fringe, the sunny streaks of caramel, and the careful, tapered layering that helps the bangs seamlessly fuse with the rest of her hair. As Lopez's followers hash out if she's wearing a wig or clip-in pieces, one element that's not in question is just how natural they look either way. Even if they are artificially installed, Martin's handiwork makes it impossible for any layman to tell the difference.
For the more trained eyes in Lopez's fandom, one clue could lay in all that volume toward the top of her head. It could be the result of a more layered, shaggier haircut or strategic concealment of clips anchoring faux-bangs in. Lopez's highlights, though, introduce another layer into the mystery. If the bangs are indeed fake, they got some painstakingly life-like highlights hand-painted in to perfectly match Lopez's existing streaks. This doesn't necessarily dismiss the possibility of a hair piece, though — her projects are all so high-profile that spending an extra few days and thousands of dollars on perfect hair for an ad, music video, or even red carpet appearance all comes out in the wash anyway.
Only time will tell if Lopez is truly committed to her new "cut", but she'll deliver more excellent summer hair inspiration along the way. Who doesn't love to try new things?