Jennifer Lopez Just Got Her First-Ever Tattoo & Dedicated It To Ben Affleck
It's not a phoenix, don't worry.
Amy Sussman/Getty Images Entertainment/Getty Images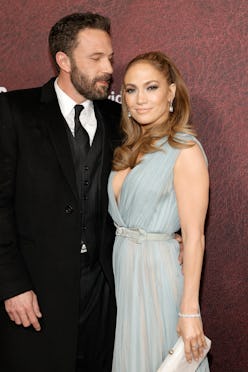 There are many ways to express undying love to a partner, but are any so excitingly extreme as matching couples' tattoos? Sure, laser removal technology has come a long way in recent years, but the fact of the matter remains — tattoos are as permanent a decision as anyone could make. In Jennifer Lopez's case, it's a the combination of two major commitments in one: to the perma-ink, of course, and to her husband, Ben Affleck. Yes, Jennifer Lopez's new rib tattoo is not only dedicated to Affleck, but matches a similar one he got for her. As Lopez's very first tattoo, it's her own forever reminder of their decades-long love story.
Lopez oh-so-casually revealed the new tattoo on Instagram, uploading a carousel that showed off her ink, Affleck's inck, and a few sweet photos of the couple. Affleck (rather notoriously) has a few tattoos, but his J.Lo ink is actually pretty simple, combining their initials between two crossed arrow. Lopez's is more intricate and involved, featuring a looping infinity sign, their names, an arrow, and several twinkly stars. "Happy Valentine's Day my love 🤍," she captioned the post, followed by the hashtag #CommitmentIsSexy.
Thanks to the public declaration of their love, plenty of other celebrities were quick to show support for the romantic gesture in the comments, including Keke Palmer, Paris Hilton, and the official Dunkin' Donuts Instagram account. The post is actually among her most-liked Instagrams ever, already racking up a near four million views in under 24 hours.
It's understandable that so many — both celebs and civilians alike — feel especially invested in Affleck and Lopez's relationship. First getting together back in 2003, their 2022 Las Vegas wedding was two full decades in the making. With this new symbol of forever permanently inked on each of them, it's like a super-satisfying ending to the world's longest real-life rom-com.