Winter's Top Hair Colors Lean Into The Frosty Elements Of The Season
@dvcolour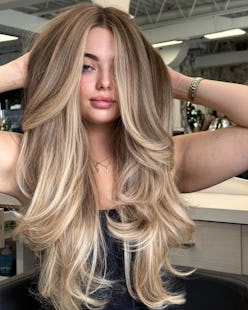 Every season brings with it a prime opportunity for change, but winter is one of the most exciting. As the days get shorter and the temperatures get closer to freezing, it's a period of renewal — and the perfect time to refresh your look. If you're unconvinced, try recalling the pivotal scene in the Sex & The City film in which Carrie Bradshaw smoothly transitions from her signature honey blonde hue to a cool chocolate brown. Like Bradshaw, the icy weather is your cue for a new beginning. And with the winter 2023 hair color trends offering such a wide range of fun shades, there are a number of looks to choose from.
This year, the cold weather brings a mix of vivid options that are both bold and easy to wear. Instead of gold and warm undertones, there's a shift toward deeper, richer hues with cool undertones. "These often reflect the colder and more subdued atmosphere of winter," says Abby Haliti, hairstylist and founder of Abby Haliti Color Studio in New York City. However, fashion also plays a key role in what's popular in the beauty, too. According to Kasper Heemskerk, international education director at Balmain Hair, this season's runway looks were inspired by familiar foods, like different spices. "Colors such as nutmeg, saffron, and salt-toned blondes are all shades that are poised to take off in the coming months," he says.
Whether you're ready for a complete 180 or a more subtle change, the hair colors below are a good place to start. Ahead, TZR taps four industry experts for their top picks and advice on maintaining the vibrancy of each look throughout the season.
Saffron
According to Heemskerk, saffron red will be big for winter. Rich and powerful, it takes a cue from cowgirl copper and embraces bold and vibrant tones for a multifaceted look. "This is a highly pigmented color that needs to be treated with care to maintain the intensity. But it's worth the extra effort to have a stunning shade that will turn heads wherever you go," he says. In that vein, he notes that keeping to regular salon visits will be crucial. "Touching up your roots and opting for a toner refresh as often as needed will help extend the life of your style and keep your hair healthy."
Cocoa Bean
Brunette is one of the most requested hair colors to transition to when summer turns to fall. Chase Kusero, celebrity colorist and co-founder of IGK Hair Care, predicts that come winter, deeper variations on the classic color will be more prominent. "Many people opt for a slightly darker version of their autumn shade to complement the earthy vibes of November," he says. Not only do these hues have a comforting appearance, but Kusero notes that they tend to look a lot more alluring during this time of year as they contrast well against paler winter skin.
Nutmeg
Think of this color as cocoa bean's younger sister. Peppy, a touch brighter, and so lively, nutmeg is the most unexpected brown shade to keep in mind this winter. "It's a tad lighter and has a range of undertones that make it multidimensional," says Heemskerk. The blend of hues also makes it a great option for those looking to transition from away from lighter summer highlights. "Considering a light brown that features bits of blonde or red will give your style a some depth and keep it from feeling too heavy," he says.
While nutmeg plays well with any complexion, Heemskerk notes that you should still make time to chat with your stylist ahead of your appointment. He tells TZR that it's important to find a variation that works best with your skin tone. "Specific colors complement you better than others. Checking in with your stylist will help find the most suitable ones so you leave with a look you truly love."
Pearly Blonde
While warm blondes are still frequently seen through fall, winter marks a shift in undertones for the popular hair color. Instead of buttery and golden shades, this season will bring cooler options with icy platinum notes. "These colors can evoke a frosty vibe that's fitting for the weather, and create a striking contrast against the darker winter clothing palette," says Haliti. According to Heemskerk, pearl is one undertone about to be especially prevalent in blondes this season. In a similar sentiment, he explains that the hue's iridescence is a unique and edgy way to brighten up your look during the colder months.
Going blonde at any point during the year can be tricky and requires a well-managed hair care routine. For winter, Haliti recommends stocking your shower with color-safe shampoos and conditioners, as well as styling products made specifically for chemically treated hair. "Hotter temperatures can strip away the color molecules from your strands and leave them looking dull and lifeless," she adds, which is why she recommends lukewarm water to wash color-treated hair.
Mink Brown
If warm browns just aren't your thing, consider this cool-toned mink instead. Despite its chocolatey appearance, it's rooted in neutral undertones that keep it from reading too warm. The result is a hue that feels luxurious and sleek. "The most important thing to maintaining a rich and dynamic hair color is keeping your strands in good condition," says Sharon Dorram, celebrity colorist and owner of Sharon Dorram Sally Hershberger Salon in New York City. This means using sulfate-free shampoos and deeply hydrating products like conditioning hair masks on the regular. Additionally, Kusero recommends glossing treatments, like IGK's Expensive Clear Gloss Topcoat, one to two times per week to amplify pigment and boost shine.
Cedar
If you've been on the fence about going copper, Richy Kandasamy, colorist and vice-president of R+COLOR development, tells TZR that now is the time to do so. "A cedar shade offers a just-bitten edge to the classic color that's been trending heavily throughout the year," he says. Not only is the intense rust color a gorgeous look, but as he notes, it can be especially complementary to fairer skin tones. Red is one of the hardest hues to maintain as it tends to fade quickly and can be difficult to initially achieve. "To protect your hair and keep it looking salon-fresh, be sure to add a UV protection cream or spray, like R+Co Sun Catcher, to your routine. After processing your strands, a little extra TLC will be much appreciated in the long run," he says.
Baby Bronde
Season after season, brunette and blonde are the hair colors to beat. But this winter, Dorram tells TZR that a blend of the two hues, also known as bronde, is a strong contender. The best of both worlds, it features a fair brown shade mixed with light, ash-toned cool blonde. Given its undertones and dimensions, it's not the easiest look to describe. To ensure that you're getting exactly what you want, Dorram adamantly recommends bringing pictures with what you're trying to achieve. "For a stylist, a photo can speak volumes and help them to develop a mix that is realistic for your hair texture, skin tone, and lifestyle," she says.
The upkeep for bronde is also important to keep in mind as the blonde elements tend to make the hair drier. But Dorram's recommendation for maintaining a look that isn't washed out is simple: avoid harsh styling products and hot tools when you can — they'll strip the hair's moisture and dull color vibrancy.