Hailey Bieber's New Candy-Colored Mani Is So Sweet For Date Night
@haileybieber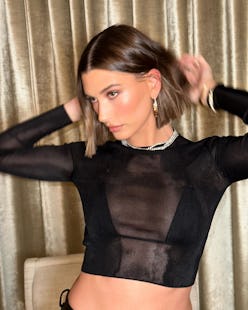 Icy weather and freezing temperatures may be enveloping much of the country, but in Hailey Bieber's world, spring has sprung. The model-mogul seems committed to refreshing her always-glamorous look with her unexpected, dramatic haircut and a spruced-up wardrobe, but it looks like even her nails are getting in on the action with a pretty spring manicure. Of course, no Bieber-approved manicure would be complete without a coat of her signature pearlescent topcoat, either. Hailey Bieber's pink chrome nails are much brighter and peppier than her usual moody manicure color choices, but it's a welcome change — take a look and prepare to be hit with a sudden yearning for sunny park days, blooming flowers, and sweet springtime air.
While Bieber's applied her trademark "glazed donut" shine to plenty of other nail colors like red, chocolate brown, and a summery lemon yellow, this appears to be her first go-round with a bright pink. She's dabbled with soft shell tones and barely-there pearl nails before, but the bolder shade is both very eye-catching and more than a little romantic. With Valentine's Day just weeks away, both the color and finish are more than fitting for the young star. Notably, though, the nails don't cross over into hot pink territory, staying firmly on the cool-toned end of bubblegum. Because it's a bit restrained but distinctly happy-go-lucky, the color fits well into the hyper-femme "candycore" beauty trend sweeping TikTok and Instagram.
Though only briefly shown in her Instagram Story, Bieber's pink chrome nails command attention. Along with her brushed-up brows — proof the fluffy brow trend isn't going anywhere any time soon — and her new wedge bob, the effect is fresh, clean, and vibrantly youthful. Considering Bieber's last manicure was just north of totally transluscent, the upbeat pink color is a welcome change. Interestingly, it appears that Bieber's matched the nails to the candy-pink blush blended up her high cheekbones and into the under-eye area. Around the holidays, she pulled a similar move by matching her bright red French tips to her lipstick — a move that always elevates a look.
With one major makeover after another from Bieber, fans are wondering what she has planned for the year to come. One thing's for sure, though — she'll always keep her audience guessing.