Hailey Bieber's Yellow Diamond Nails Look Like A Million Bucks — Literally
@haileybieber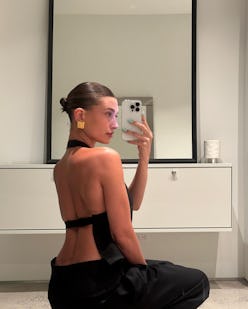 Does Hailey Bieber ever get tired of setting trends? It sure doesn't look like it. The Rhode beauty mogul's had a jam-packed few weeks — but somehow, in between promoting her skin care products, supporting her husband and friends, and fulfilling all of her brand ambassador obligations, she still has time to think up exciting, distinct looks for each and every appearance. While her makeup and hair are always excellent, there's no denying Bieber's power over all things nail-related — and this week's look might be her most innovative color pairing yet. Hailey Bieber's neon yellow manicure is so much more than just a colorful take on the traditional tips, too.
The bright, bold manicure was created for Bieber's trip to Tokyo, where she celebrated the opening of a new Tiffany & Co. store alongside fellow brand muses Anya Taylor-Joy and Florence Pugh. Upon closer inspection, her nails actually feature nearly the exact same shade of yellow on both the nail beds and the rounded tips, separated only by increased opacity at the ends. It's at once something of an optical illusion and totally unique for the color alone — as so many starlets have fully turned their focus on the dark, moody manicures of fall, Bieber is happy to toggle back and forth between the seasons as she sees fit.
Hanna Lassen/Getty Images Entertainment/Getty Images
Tomohiro Ohsumi/Getty Images Entertainment/Getty Images
The nails are an unexpectedly perfect match to her outfit, though. While Bieber glided through the party in a sleek black dress, the dangling Tiffany & Co. jewels at her ears feature a bright yellow diamond at the very end. Undoubtedly the reason she went with the manicure in the first place, the brilliant coordinating moment adds even more depth to her look. Though she works most closely with celebrity nail artist Zola Ganzorigt, it's unknown who created this set considering Bieber was in Tokyo while Ganzorigt racked up scores of A-list VMAs mani credits.
Fans of Bieber know this is far from the first time she's experimented with yellow nails, but it is new to see them on her beyond high summer. When last she tried them out, they were a zesty, chrome powder-covered lemon made for a Rhode promotional shoot.
Let Bieber's look be a lesson to mull over. Seasonal trends are excellent, but far from the be-all-end-all. Consider taking cues from individual outfits might be the key to unlocking all sorts of innovation.