Hailey Bieber's Viral 'Strawberry Girl' Makeup Look Is All About Double-Blushing
@haileybieber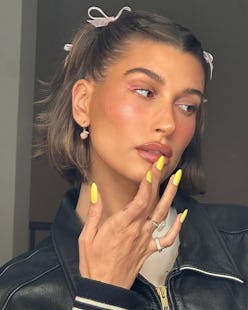 We may receive a portion of sales if you purchase a product through a link in this article.
What is it about summer 2023's most viral trends? They're all so distinctly...delicious. Between vanilla chrome nails, tomato-girl style, and latte makeup, there's no shortage of fun, frivolous crazes to make the rest of August fly by. If you've yet to find your warm weather beauty signature, though, you've really lucked out. Just in time to close the season out in style, Hailey Bieber casually dropped the best makeup look of the summer — and yes, it too is inspired by a sweet treat. Bieber's "strawberry girl" makeup relies on a hazy blend of different pink-toned blush shades to create a sun-kissed flush, all underscored by the light, glowy complexion products she layers underneath. If you've been reticent to jump into these TikTok-boosted trends, this is a great one to dip your toes into — not only is the look easy to recreate for minimalist makeup days, but Bieber's techniques are universally applicable.
The Rhode Beauty founder took to that very clock app to share her strawberry girl tutorial, an especially exciting uploading considering she had just let fans in on her go-to night-out makeup look just days earlier. Sitting outside in the sunlight with her short bob woven into two tiny braided pigtails, Bieber notes that this is her first time doing a voiceover-style video before jumping right in. As always, she preps with her own skin care products, laying down some Rhode Glazing Milk before giving her brows a quick fluff-up.
Next, Bieber adds dimension with cream bronzer and some strategic concealing, likely the Tom Ford Beauty Shade & Illuminate compact and Hourglass Vanish Airbrush Concealer respectively — she used both of those products just days earlier for another, nighttime-focused tutorial.
The moment Bieber breaks out the blush is where things get really interesting. Patting on two shades, a pink and a poppy red, Bieber blends them both up her cheekbones while narrating, "Can't say where the cream blushes are from, wink wink," she teases, layering a peach-colored cream highlighter over the double-blush technique to add even more warm pink tones into the mix. Fans were quick to make the connecting, dying to know if Rhode's first makeup launches are on the horizon. Clearly, the demand is already there.
Just like in her night-out makeup tutorial, Bieber follows up her makeup with a smattering of drawn-on faux freckles, which just lends an even more natural finish. By letting features like freckles, moles, and beauty marks shine under concealer and foundation, it makes it look like you're wearing far less makeup than you actually are.
After a tiny cat-eye flick with a brown liquid eyeliner and some mascara, Bieber goes in with the Make Up For Ever Artist Color Pencil in Anywhere Caffeine, tracing her mouth's outline before smudging it all out with her finger. Of course, you already know what happens next: she tops off the lips with a healthy coat of her Rhode Peptide Lip Treatment, but in a as-yet-to-be-revealed new flavor.
With so many Rhode launches on the horizon, expect plenty more makeup tips from everyone's favorite A-list part-time TikToker. While the mysterious blush Bieber used on-camera is still under wraps you can shop similar strawberry girl essentials down below.