The 2023 VMAs Are Basically A Showcase For Every Hot Fall Beauty Trend
See all the celebrity looks here.
ANGELA WEISS/AFP/Getty Images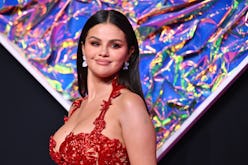 There's no award show — scratch that, there's no television broadcast — like the MTV Video Music Awards. Considered one of the few high-profile events where celebrities can truly let loose and be themselves, it's no wonder the ceremony has played host to so many truly legendary (and downright infamous) pop culture moments for nearly 40 years now. But truth be told, there's just as much action happening on the red carpet as there is inside the venue. The 2023 MTV VMAs' best beauty looks are as trend-filled, glamorous, and over-the-top as it gets, with the relaxed nature of the evening encouraging the attending stars to go for self-expression and fun above all else.
This year promises to be an especially star-studded affair, starting with its A-list host — and she did not disappoint. Emcee Nicki Minaj took to the pink carpet in a candy-colored wedding veil partially obscuring her matching eyeshadow, already hyping fans up with her energy and social media posts. Other early arrivals like Olivia Rodrigo and Megan Thee Stallion helped set the tone for their night while channeling retro sirens with vampy hair-makeup combinations. Meanwhile, Anitta and Selena Gomez are giving fans another look at the best fall trends of the season. Every incredible hairstyle, lipstick, and pair of lashes from your favorite celebrities are all right here.
Taylor Swift
With her curly hair pulled back into a low half-ponytail, Swift's style looks almost mullet-ish in the most rocker-chic way — an effect only heightened by all that black gel liner.
Nicki Minaj
Though obscured by her pink bridal veil, Minaj's Pat McGrath Labs eyeshadow (applied by celebrity makeup artist Ronald Watkins) is a perfect match for both her outfit and the carpet itself.
Shakira
Before even setting foot on the pink carpet tonight, Shakira already won. As this year's Video Vanguard honoree, she stayed true to her long, honey-blonde curls and a sultry-natural makeup look — classic.
Selena Gomez
Gomez complemented her statement gown with softly smoky matte brown eyeshadow (it's Rare Beauty, of course) applied by Hung Vanngo. Her fiery ruby chrome nails come courtesy of Tom Bachik. To bolster her already-stunning hair, Nikki Lee added 20-inch Great Lengths extensions.
Sabrina Carpenter
It's all about the blush with Carpenter's ethereal look, particularly the way its dewy finish plays off the shine in the long curtain bangs. To seal the angelic Armani Beauty makeup look, makeup artist Carolina Gonzalez gave her clusters of Velour Beauty lashes.
Ashanti
Another living legend who's never once lost her touch, Ashanti's glittering green eyeliner is the most unreal complement to her deep brown eyes. Her entire look is so glamorous, including the jewels encrusting her long, square-shaped manicure.
Olivia Rodrigo
For the big event, Rodrigo stayed true to her trademark beauty look: shiny hair styled by Clayton Hawkins, a subtle cat eye by makeup artists Nina Park and Yukari Obayashi Bush, and jet-black nail polish.
Megan Thee Stallion
It doesn't get much more glamorous than Megan's classic, smoked-out Revlon cat-eye by Lauren Elise Child, shimmery gold French tips, and a slicked-back hairstyle created by Kellon Deryck that shows off her perfectly-arranged baby hairs.
Cardi B
Joining her "Bongos" duet partner on the red carpet, Cardi B's so timeless in her defining Pat McGrath Labs lip liner, fluttery lashes, and flawless Dermablend body makeup applied by Erika La Pearl. Special attention must be paid to her chrome-ified nails, though — it's her third manicure by Jenny Bui in as many days. Her long, raven-black hair comes courtesy of TokyoStylez, who nailed the look using göt2b products.
Karol G
Taking cozycore to the next level, Karol G's wet-looking waves, warm pink blush, and fuzzy, robe-like coat make her look from-the-shower radiant. Those perfectly-arched eyebrows are the work of Kelley Baker.
Saweetie
Dressed up in her signature shade of cotton candy, Saweetie went all-in on monochrome — her Kenya Alexis-applied Maybelline Eye Stix and iridescent nails by Temeka Jackson even matches the pink carpet.
Anitta
Anitta's entire look is like the ideal fall beauty checklist, including her '90s brown lipstick applied by makeup artist Luis Torres using Pat McGrath Labs, and a red-toned blowout with so much shine.
Demi Lovato
Lovato's goth-glam makeup and Alyx Liu-styled hair are the perfect choices for their current rock revival era — the black-on-black eyeliner alone, applied by makeup artist Jill Powell, could inspire a trip to Hot Topic. Powell prepped Lovato's skin using The INKEY List products, then used a range of makeup including the new Danessa Myricks Groundwork Palette on her eyes.
Coco Jones
It doesn't get better than Jones' perfect lob flip and silver-trimmed nails. Next to her deconstructed leather ensemble, her manicure looks like extra jewelry.
Kelsea Ballerini
At first, Ballerini's long, almond-shaped nails look like a straightforward French manicure — but look closer and note how the thumbs feature cool, tilted takes on the traditional tips. Her fresh, sultry makeup comes courtesy of artist Kelsey Deenihan, who used Covergirl products to get the look.
Emily Ratajkowski
Summer never ends for Ratajkowski, who took the carpet in sunburn-style blush by Pat McGrath Labs (applied by makeup artist Jen Evans) and sultry curls. The real question is, though, is this a wig or has she given up her amber hair color?
Nelly Furtado
Furtado's makeup is a masterclass in timeless glamour thanks to a strong eyeliner wing, glossy peach lipstick, and cheekbone-enhancing bronzer.
Chloë Bailey
All in on fall's matte shadow trend, Bailey's cream-colored eye makeup makes her retro-style eyelashes look all the more alluring. Meanwhile, the position of her half-up hairstyle puts even more focus on her glossy curls.
Dove Cameron
So sultry in shimmering black sequins, Cameron's look is vampy perfection. Celebrity makeup artist Kale Teter used Milk Makeup to create her otherworldly glow and intense eye look, while hairstylist Jacob Rozenberg used Olivia Garden hair products to maximize her glossy blowout — but not before refreshing her rich color with the Schwarzkopf Keratin Color Rich Soft Black in her hotel.
Madelyn Cline
Glowing in a pale gold gown, Cline's hairstylist Laura Polko nailed her lustrous waves with the help of John Frieda hair products and Conair tools.