The 24 Best Fall Makeup Products To Refresh Your Routine For The Season Ahead
Swipe, swatch, and blend with ease.
Courtesy of Brands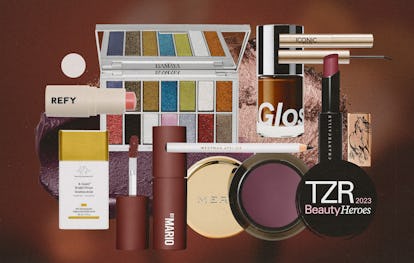 TZR Beauty Heroes are vetted products out of the dozens that land on our editors' desks throughout the year. This month, TZR's beauty team shares its favorite fall makeup picks.
Whether you want to admit it or not, summer isn't all it's cracked up to be. Laundry days are more frequent because you sweat through all your clothes, and the heat and humidity make it tough to wear a full-on smoky eye or your favorite matte red lipstick, or both. Because, let's face it: Applying makeup in the morning is a giant waste of time if it's going to melt off by noon. The silver lining? Crisp, breezy days are just around the corner, and soon, it will be primetime to experiment with your looks. As you start to map out your fall makeup mood boards, you might come to the conclusion that your product collection needs a refresh, too.
With so many makeup launches hitting virtual and physical shelves throughout the past year, it can be easy to get swept up in the hype of pretty, shiny products, but also tough to decipher what's worth purchasing. However, no one tests as many products as beauty editors, so when one earns a spot in their permanent rotations, you know it's good.
Whether you're in the market for an elevated version of a staple, like a liquid eyeliner, or iridescent eyeshadows to partake in the ever-popular mermaidcore trend, TZR's beauty team is here to guide you in curating your routine this season. Ahead, find our 24 favorite fall makeup products to suit every aesthetic.
Best Foundation
Best Blush
Best Concealer
Best Highlighter
Best Contour
Best Radiant-Finish Concealer
Best Setting Powder
Best Multitasking Base Product
Best Eyeshadow
Best Mascara
Best Eyeliner Pencil
Best Liquid Eyeliner
Best Eyeshadow Palette
Best Everyday Lipstick
Best Lip Liner
Best Tinted Lip Balm
Best Matte Lipstick
Best Lip Gloss
Best Multitasking Lip Product
Best Brow Pencil
Best Brow Pen
Best Brow Gel
Best Tinted Brow Gel