Punch Up Your Ponytail By Adding In These Celeb-Approved Rope Braids
WWD/Penske Media/Getty Images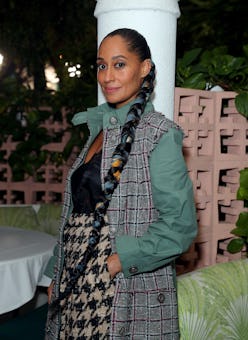 Ah, the humble ponytail. Not a hairstyle alive can compete with its timeless utilitarianism — what else works just as well for a black-tie function and a sweaty "12-3-30" treadmill session? Really, the only thing better than a pulled-back pony is one accented by a braid. It's the proverbial best of both worlds, and it explains why all of Hollywood seems to be enamored with rope braids. Celebrities have always loved a plaited ponytail, but the resurgence of the look brought with it a newfound sense of fun and self-expression. Even if two stars are both wearing rope braids on the red carpet, it's highly unlikely that the hairstyles look anything alike in practice. Many prefer an extra-long version, interweaving scarves, chains, and ribbons for more glamour and sparkle. Some are on the cottagecore wave, preferring messier, more natural iterations of the look — think Rapunzel if she carried a SAG card.
Of course, the best thing about a rope braid, sometimes called a snake braid on TikTok, is just how easy it is to do yourself. Even if you're adding in extensions or accessories, it really is as simple as a traditional three-strand braid — the style's defining quality is simply the fact that it's secured by some sort of tie at both its base and the ends. In other words, there's really no excuse to not experiment with the look at least once.
Ahead, get inspired for your next updo with these celebrity-approved rope braids for every aesthetic and personal style.
Anya Taylor-Joy
Though still so sleek, notice how Taylor-Joy didn't iron out her natural waves before pulling them all back into a low, jumbo-sized braid. She caps off the look by securing the whole thing with a white satin ribbon at the base of her head, its width thick enough to look like a hair cuff.
Kim Kardashian
Now this one's for the more advanced students in Rope Braiding 101 — Kardashian's Chris Appleton-styled ponytail looks like it's made of at least five different strands for an intricate, detailed look supported by plenty of volumizing hair extensions.
Beyoncé
Beyoncé's high-glam take on the rope braid might also be one of the most traditional. Starting right at the crown of her head (very appropriate for the Queen Bey), her braid is punctured by blonde highlights in different shades and tones for so much dimension.
Taylor Swift
If you're a beginner braider, start here with Swift's look. Free of any extra accessories (unless you count her bangs — which you should), her red carpet style is simply a ponytail plaited all the way down and tied off with a clear elastic.
Gemma Chan
Hopeless romantics will surely gravitate toward Chan's whimsical, center-parted braid. Largely left loose down her back, the best part is the sweet satin hair ribbons securing the style at its base and at the ends. Next to her floral dress, it's perfectly princess-y.
Tracee Ellis Ross
Leave it to Ross to always deliver a fashion-meets-beauty moment — there's a reason she's so revered in both categories. She's worn several different styles of rope braids over the years, but weaving an outfit-matching silk scarf through this one is a seriously brilliant touch.
Selena Gomez
Combining a fishtail braid with a traditional plait, Gomez's scrunchie-secured updo feels all the more intricate. Copy her move when you try it — do the fishtail style weaving until the last few inches, then switch to a regular three-strander the rest of the way down.
Olivia Wilde
While most of these looks feature more traditional braiding styles, there are always ways to put a fresh spin on it. Wilde's bubble-style rope braid is a fun alternative, and just as easy to recreate with a handful of clear hair elastics and some gentle tugging.
Sheryl Lee Ralph
Ralph looks like a million bucks with her jewel-encrusted rope braid, a super-trendy way to make the look feel so special. Hair gems are having a real moment, but Ralph's twinkling trail of stick-on rhinestones make the case for extending them all the way down your braid.
Blake Lively
Remember when Lively's Gossip Girl character infamously braided her graduation tassel right into her hair? Exactly. It's easy to imagine Serena Van Der Woodsen causing a scene at the opera with this chain-accented rope ponytail swinging as she snaps her flip phone open.