Tracee Ellis Ross Rarely Repeats A Hairstyle & These Are Hall Of Fame-Worthy
She can pull off anything.
@traceeellisross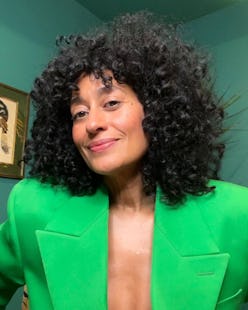 There's no denying Tracee Ellis Ross' perennial icon status. Aside from the whole award-winning actor thing, the star is beloved for her ability to turn any red carpet into her personal runway with her fashion and beauty choices. Ross' celebration of her stunning natural curls even led to her creating her own hair care brand, Pattern Beauty, in 2019. Tracee Ellis Ross' best hairstyles feel like more than just a gorgeous beauty moment, too. They're almost an extension of Ross herself, and her fun-loving, exuberant personality.
Notably, though, Ross' greatest hair hits go far beyond her signature bouncy curls. Just like her experimental and bold fashion sense, over the years, Ross has tried experimented with what seems like every hair look under the sun. Between red high-profile carpet events, magazine covers, and assorted ad campaigns, Ross is singular in her ability to make even the simplest looks seem like such a standout.
If you're looking for some hair inspo for summer, look no further — Ross has every angle under the sun covered. From her lush natural curls to her ever-creative braided looks, take a quick journey through the Tracee Ellis Ross' most memorable hairstyles.
Curly Bob
You could call this curly bob Ross' signature look. Her curls are trimmed and style to maximize volume and fullness, while the tendrils that makeup her bangs help frame her face — and her fantastic red lipstick.
Wedge Cut With Bangs
One of Ross' most recognizable Met Gala hairstyles ever, she experimented with shape — and some eyebrow-clearing micro-bangs — at 2021's fundraiser.
Ultra-Long Snake Braid
It's hard to say what's cooler: the extreme length of Ross' tight snake braid, or the silky scarves woven through it. Acting as the best pop of color, the scarves-as-hair-accessories help tie her entire look together.
Double Buns
It doesn't get cuter than Ross working her curls into little puffed buns, a springtime fresh hairstyle that keeps the hair back and shows off her favorite shade of lipstick.
Sleek Straight Backs
Ross' sleek straight-back braids feel especially goddess-like when paired with this billowing white gown and bold eyeliner, worn at a Valentino Haute Couture show. The long braids has plenty of movement at the ends, softly swaying with her gold tasseled earrings.
Natural Curls
Big, natural curls are Ross' signature style and she absolutely nails it every time. Her hair care brand, Pattern, was created to fill the gaps that she saw in the market for curly hair products.
Slicked-Back & Straight
The short, slicked-back style that Ross wore to the 2020 NAACP Image Awards just screams Old Hollywood glamour. That evening, she also took home the award for Best Actress in a Comedy Series for her role in Black-ish.
Curly-Ended Braids
The 2019 Grammy Awards were not prepared for what Tracee Ellis Ross was bringing to the red carpet. Her long braids nearly hit her calves, yet she still looks effortlessly cool.
"Grown Woman" Hairs
The actor shared a BTS selfie before the virtual 2020 BET Awards showing off a simple, sleek style featuring "some cursive extravagance" — that being, her beautifully styled baby hairs (which Ross hilariously calls her "grown woman hairs" in the caption).
Scarf-Protected Bun
Tying her bun up with a patterned hair scarf elevates the simple look to an entirely new level — and, as she says, it keeps "the Zooms spicy!"
Classic Bob
The world did a collective gasp when Ross debuted a sleek, center-parted bob on the summer 2021 cover of Marie Claire.
Looped Braids
Who would have thought that face-framing looped braids could look so elegant? Trace Ellis Ross, that's who.
Gorgeous Grays
Always one to keep it real and transparent, Ross shared this bare-faced selfie proudly showing off a few grey hairs.
This article was originally published on