Taylor Swift's Summery Fishtail Braid Looks Way More Complicated Than It Really Is
Gotham/GC Images/Getty Images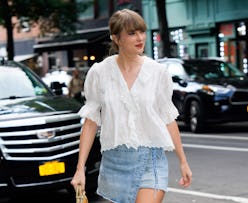 Does Taylor Swift even know what era she's currently in? Ostensibly, she should be all about her latest original work, Midnights, but her career-spanning tour setlist and upcoming re-recording release has Swift looking like an amalgamation of every album cycle she's ever been through — she contains multitudes, it appears. Just take her latest promotional clip reminding fans about the the July 7 drop of Speak Now (Taylor's Version). Perched next to a trio of candles in a long, whimsical slip dress, Swift's fishtail braid is long and well-plaited, but it — like virtually everything else this woman does — seems to be steeped in a some secret meaning that could hint at upcoming projects, too. But for now, take her braid for what it is: an easy, breezy summer hairstyle that looks far more intricate (and difficult to recreate) than it actually is.
Swift showed off the long, nearly elbow-length look in a brief video filmed for Spotify teasing the re-recording drop. Even the clip itself is a reference to her lore, a modern day take on the grainy livestream through which she announced the old version of Speak Now, complete with candles and her hair draped over her left shoulder. But for 2023, Swift traded in her natural curls for the casual-cute braid that's especially great for summer.
Fishtail braids are incredibly easy to plait: just split a ponytail into two equal halves and pass tiny sections of hair back and forth. Notably, Swift's braid is intentionally a bit undone for an earthy feel, with several longer strands around her bangs left loose and free-flowing.
But even more interesting is the nail color she chose to pair with her Speak Now TV look. Knowing just how far her fans will read into quite literally everything she does (the numerology some Twitter stans come up with is Nostradamus-level wild), Swift fed the proverbial beast by prominently displaying light blue nails in the video — a clear Easter egg hinting that 1989 (Taylor's Version) is next on the docket. She even explicitly described the album as corresponding with light blue when she unveiled her set of 10 "eras nails" just before kicking off her tour:
But cryptic maybe-messages aside, Swift's braid continues her streak of effortless summer hairstyles. Last week alone, she was photographed with pigtail braids, bouncy ponytails, and a truly spectacular claw-clip updo that seems to defy all laws of physics. With a new-ish album only days away, expect even more seasonal looks from Swift.