You've Never Seen A Half-Up Hairstyle Like Adele's Twisted Rope Braid
Johnny Nunez/Getty Images Entertainment/Getty Images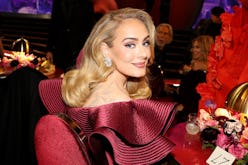 It went by in the blink of an eye, but Adele is already on Week 21 of her record-smashing Las Vegas residency. If you're familiar with the singer's style, it'll come as no surprise to hear that head-to-toe, her her looks are still as fresh as they were on opening night. Throughout her entire yearlong performance schedule, Adele's taken the stage in elegant updos, bombshell-style blowouts, and the kind of couture gowns typically reserved for the most high-profile red carpet events — frankly, though, her latest concert look is in a league all its own.
Adele's rope braid, woven from a half-up ponytail and left to stand out against her otherwise stick-straight hair, is more than just a creative new style to freshen up the performance. The two-strand twist is also a spot-on textural match for the chain-like trim on her bespoke Stella McCartney gown, with celebrity hairstylist Sami Knight confirming on Instagram that the sleek, shoulder-exposing halter dress was indeed the inspiration behind the look. The effect is brilliant, connecting every visual element of the show for a cohesive aesthetic that just looked luxe, even from the cheap seats — and that's "cheap" as in $600 a pop resell, mind you.
The singer's return to Caesar's Palace after a brief, restful hiatus couldn't have come at a better time. Fans know Adele's artful hairstyles and bold yet classic makeup style — not to mention her always-tasteful, sultry ensembles — make her an ideal beauty muse for all things wedding season and beyond — her Vegas hair moments alone could be turned into the ultimate holiday party idea lookbook. Knight's been behind all of her best styles, delivering a set of vintage-perfect Old Hollywood curls for the Weekends With Adele show just last month.
Meanwhile, celebrity makeup artist Anthony H. Nguyen is on an endless streak of gorgeous cat-eye gel liners, shimmering highlighters, and the best lip liner-lipstick combos. For Adele's latest show featuring the rope braid, he dressed up her eyes with twinkling platinum sparkles, all framed by the flutteriest pair of false eyelashes.
Fortunately for everyone looking forward to fall's endless schedule of activities and social obligations, there are plenty more Weekends With Adele shows coming up — with unique hair-makeup-outfit combinations for each.