Your Renaissance Tour Look Is Incomplete Without An On-Theme Hairstyle
Kevin Mazur/Getty Images Entertainment/Getty Images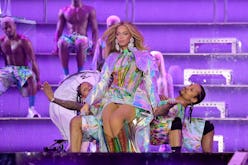 If you can still hear screaming all the way from Sweden, don't be alarmed — that's just the exuberant fans lucky enough to catch Beyoncé's long-awaited Renaissance World Tour inaugural performance. Kicking off in Europe and making its way through North America, the three-hour concert event covers almost all of her greatest hits (no "Ring The Alarm" but fine, whatever!) so naturally, fans are turning out by the thousands dressed up in homages to Beyoncé through the years. But it's not just about the clothes — Renaissance Tour hair ideas are taking over every social media channel, and with good reason. While there are a few weeks left until Bey brings the show stateside, it's time to start planning your look now. Everyone else definitely is, anyway.
Though the tour covers much of Bey's back catalogue which encourages homages from any era, most of the concert is dedicated to her current Renaissance album cycle, which calls for your best Studio 54-meets-Marlboro-Man creations. The collision of two distinct aesthetics means there's so much room to play with shimmer finishes, gems, and chrome detailing, along with more rodeo-friendly motifs like silver, fringe, tightly-woven patterns. Below, some easy, Renaissance-inspired hairstyles to get the creativity flowing in time for your show date.
Sparkle Braids
Expect to see plenty of sparkle braids shimmering through the stadium, a look that both nods to the tour theme and doubles as a subtle homage to one of Beyoncé's most memorable red carpet looks. Infuse your next set of braids with long hair tinsel in any shade. The holographic strands are even illuminated under low lighting — which is why Beyoncé wore streaks of glittery gold hair tinsel to the 2010 Grammys.
Beaded Bangs
Many are already getting a version of this look with rhinestone-fringed cowboy hats, but why not take it a step further and turn your actual bangs (or better yet, a clip-in set) into a dozen crystal-studded strands?
Reminiscent of party hairstyles and headpieces worn by Grace Jones and her legendary coterie, you can either attach hand-cut crystal ropes to hair with lash glue or simply buy a draped headpiece. Beyoncé's mentee, Chlöe Bailey, has already perfectly demonstrated the latter.
Hair Gems
When TikTok first caught on to the endless possibilities afforded by a $15 plastic stamper originally designed for children, the hair gem craze exploded. Perfect for huge, glittery concert like Beyoncé's Renaissance Tour and Taylor Swift's Eras Tour, hair gem can be applied with a stamp tool or with lash glue and a wax-tipped pen.
Party-Ready Ponytails
The fun of an ultra-dramatic ponytail is in just how excellent a canvas it is for all things ornamental. Strands of craft store-sourced pearl strands, hair rings, dangling crystals, interwoven scarves and bandanas — it's all beautifully displayed with a long, swinging ponytail or rope braid.
Ponytails are especially easy to work with because any extensions or extra hair pieces added don't necessarily have to be perfect color or texture matches — this is one style for which you can definitely utilize less-expensive wefts.
Mrs. Carter Curls
You don't necessarily need a glitter-soaked hairstyle to stand out at the Renaissance Tour. After all, what's Beyoncé herself wearing on-stage? Classic, glamorous curls have been an essential piece in her Renaissance album cycle aesthetic since it first dropped.
A little bit '70s with tighter shapes and tons of volume as well as a bit '00s (Dangerously In Love-era Beyoncé vibes), you can really nail the BGKC of it all with clip-in extensions for added drama.