Beyoncé's Newest Hair Color Was Inspired By Your Favorite French Dessert
@beyonce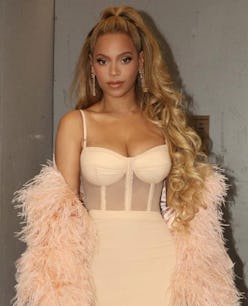 We may receive a portion of sales if you purchase a product through a link in this article.
Beyoncé's global Renaissance Tour is already going down in history as a once-in-a-lifetime concert experience and it's thanks in large part to the star's legendary commitment to detail. But the multi-hour spectacle involves more than couture costumes, choreographed dance breaks, and a 12-foot animatronic horse that prances across the stage — even Bey's beauty choices are all meticulously planned out, including her latest look. Beyoncé's "crème brûlée" hair color, just created by celebrity colorist Rita Hazan, is a cool, creamy iteration of blonde that's equally radiant under the stage lights as it does on the red carpet and hanging out at home. And, by virtue of this A-list co-sign, it's poised to be one of the season's most sought-after shades.
The timing of Beyoncé's new hair color is no accident. Hazan's work comes just in time for the North American leg of her tour, with the crème brûlée blonde stopped at her first continental stop in Toronto. "She wanted to go even lighter than she was since it's the height of summer and her tour and she loves to switch up her color and style," Hazan told TZR, breaking down her technique and explaining that they decided to go blonder accordingly. "She likes to have fun and is playful with her color."
Before starting in on color, Hazan and Beyoncé plot out the exact plan. The pair have been working together a full decade now so there's a lot of existing trust, but as Hazan puts it, Bey always gets involved because it's her hair. The key to the look is actually the hair color and application technique she used last time, a shade called "sunwashed blonde" that was done just ahead of the initial tour kickoff. Because of her strategic work last time around, Hazan says she was able to build off of that color to achieve this new shade with minimal damage to the hair. Think of it as a bright blonde slow-burn — you know Beyoncé is all about playing the long game.
Hazan and Beyoncé's enduring relationship helped perfect the techniques used, too. Hive members know just how much Bey loves a half-up ponytail for all sorts of major events, so Hazan started by highlighting around her face with the lightest shade, then made the underside more dramatic in contrast — a perfectly dimensional spectrum of colors for a half-up hairstyle was top of mind. "Next, I blended out her hairline, making it more fine. I finished by making her ends even lighter and blonder than the top. This is the height of the summer so we wanted to take her blonde shade up a notch to create this beautiful crème brûlée color," Hazan says.
To get the Beyoncé look on your own, bring in some photos for reference and tell your colorist you're after a summery, creamy blonde with highlights and golden tones throughout. Then, to maintain it, Hazan recommends her own brand's signature warm hair gloss for shine and depth. "Glosses are sometimes forgotten in the hair care regimen, but they are a solid product to ensure brilliant color beyond the chair," she explains. Add in a targeted weekly treatment for the right moisture balance, and you're set — it's what Beyoncé would do, after all.