These Too-Cool Celebrity Buzzcuts Might Tempt You To Grab The Clippers
George Pimentel/WireImage/Getty Images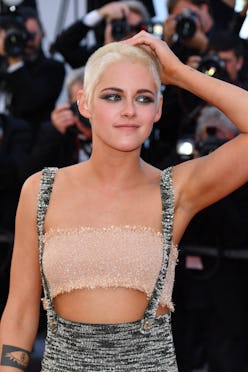 There are very few red carpet surprises capable of dominating the headlines these days. In the blink-and-miss-it attention economy, it takes a seriously shocking moment to get the people talking for longer than a day or so — but if anything's capable of commanding focus, it's a celebrity buzzcut. No matter if it's through a dramatic award show reveal or a heartfelt Instagram post, news of a star shaving their head always piques interest. While corresponding trends from certain years might trigger waves of several celeb buzzcuts right after another (looking at you, 2017), there's nothing flash-in-the-pan about a super-short haircut.
The extreme look attracts stars for a reason, allowing them to quite literally face the world head-on — it's part of why they often cite very personal stories when sharing the news of their big new cuts. When Lupita Nyong'o first decided to take the plunge for the first time at age 19, she described the experience to Redbook as both liberating and vulnerable. "When you feel the wind on your scalp, it's like, oh my god," she told the magazine. "But I've kept my hair short ever since." For other A-listers like Demi Moore or Natalie Portman, the major change is an extension of their craft — both women shaved their heads for roles that would garner them serious acclaim.
If you're playing around with the idea of your own buzzcut, these celebrity looks could be just the thing to seal the deal. Ahead, explore some of the very best.
Florence Pugh
Speaking of dramatic reveals — does it get any splashier than Pugh's headpiece-accented buzzcut at the 2023 Met Gala? Really playing on the element of surprise, she wore a blonde Scarface-style bob the night before for maximum shock value the next day.
Natalie Portman
Portman's reputation as a serious character actor was sealed when she shaved her head for the movie V For Vendetta. Not only did she score serious acclaim, but her chic, stubby hair would go down as an all-time iconic Cannes look.
Willow Smith
For years now, everyone's been on the same page — Smith is simply the coolest girl in the world. She's tried plenty of sleek looks over the years, but her buzzed head and ruby-red lipstick are an especially notable pairing.
Kristen Stewart
Edgy is practically Stewart's middle name — of course she'd try shaving her head at least once. What really sets this hairstyle apart, though, is the luminous platinum blonde color.
Lupita Nyong'o
You could call Nyong'o's take on the buzzcut one of the most classic versions out there. She has a bit of growth for definition and texture, but the super-short length puts all the focus on her movie star facial features.
Demi Moore
You can't do a roundup of celebrity shaved heads without mentioning Moore's G.I. Jane buzzcut. Practically overnight, fans of the singular look started rolling out their copycat cuts.
Amandla Stenberg
Stenberg's shaved head is a gorgeous length next to their smoky eye makeup and demure lip color. But Stenberg's original reason for buzzing their hair off goes deeper than just looks. "I was curious how [my hair length] might affect people's perception of my gender too, so I kept cutting it shorter and shorter. I wanted a hairstyle that felt less feminine," they told InStyle.
Cara Delevingne
If you want to instantly make your eyes the center of attention, put your hair back. And if you want to make you eyes look downright hypnotic, like Delevingne? All you need is a spiky buzzcut.
Saweetie
Saweetie's famously known as the Icy Girl, but pink is definitely her color. While having some fun around the winter holidays, she debuted a champagne platinum buzzcut only to dye it a bright candy-pink just days later.
Halsey
Halsey's low-key buzzcut is a great general length for anyone looking to start shaving their head. Just don't forget to load up on scalp care, which becomes extra important the more exposed the head is.