Natalie Portman Is The Unsung Star Of Avant-Garde Beauty Trends — This Look Proves It
A deep dive into the star's aesthetic archive.
Vera Anderson/WireImage/Getty Images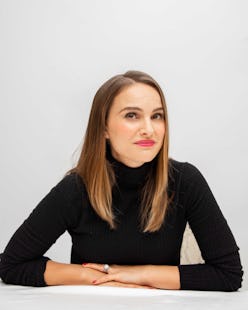 An A-lister recently remarked that she felt there were "no more movie stars." In a stream-centric world, she might have a point — but a dive back into Natalie Portman's impressive oeuvre is a refreshing reminder that Hollywood's got at least one screen-commanding (and very stylish) leading lady left. Portman is a movie star modeled after the true originals. Versatile in role range and always so elegant and poised, a trip back through Portman's beauty evolution is a multi-decade retrospective of high-profile premiere hairstyles and timeless makeup moments, but not without a few trendy or otherwise unexpected looks in her portfolio, too.
Portman first arrived on the scene back in 1994, playing a few bits parts and scene-stealing characters until her major breakthrough arrived, a starring role in a new Star Wars franchise. But Portman wasn't content to stay in the action-adventure genre, immediately showcasing talent in more intense, dramatic productions. Along the way, Portman's refined taste and passion for the classics blossomed, scoring her a decade-long beauty partnerships with Dior across fragrance and cosmetics.
Ahead, take a look back at Portman's complete beauty evolution, from precocious child star to the modern icon she is today.
Teenaged & Trendy In 1995
It doesn't get much more fresh-faced than a 15-year-old Portman with a long, preppy bob and eye-illuminating inner corner highlighter. She'd return to this hair length several times over the years.
Sweet Pinks For Star Wars In 1999
Portman's arrival at the international premiere of Star Wars Episode I: The Phantom Menace doubled as her formal introduction to the A-list — her career would explode immediately after. For the occasion, she chose a sweet aqua gown with matching eyeshadow, bright pink blush, and a prom-worthy updo.
Classic Aughts Hairstyles In 2002
Portman's '00s-perfect pouf updo and looped-sleeve dress at the 2002 VH1 Fashion Awards might feel like a total time-warp — if she didn't balance the of-the-moment hairstyle out with a trace of rosy blush and pared-down eye makeup.
Cottagecore Curls In 2004
Amid all the discourse about "iPhone face" and which actors have it, consider Natalie Portman. With her 16th century bob with bangs and ethereal curls, she looks straight out of an oil painting.
Buzzcuts & Blush In 2005
When Portman shaved her head for her role in the gritty V For Vendetta, fans praised her commitment to the movie and how excellent she looked with a stubby buzzcut. As the shaved-head trend continues to ramp up, fingers crossed Portman explores the look at least once more.
The Smokiest Eye Makeup In 2008
As often as Portman goes for soft, fits-in-any-era makeup, there are still several notable moments where she's all-in on a more extreme look. At Cannes' annual amfAR gala in 2008, she shrouded her brown eyes in smoky jet-black eyeshadow, complete with delicate trails of fanned-out, exaggerated liner just underneath her lower lash line — it's like a reverse wing.
Side-Swept Oscars Curls In 2011
There are two schools of thought on Oscar night when you're a star up for a Big Four award: wearing something dramatic and memorable, or look so classic as to be timeless and unassailable. For her Black Swan victory in 2011, Portman went for the latter with big, side-swept curls.
Sleek & Modern In 2013
Updos are a little fewer and further between for Portman, but she's undeniably chic in a low, slicked-down ponytail in 2013. At this Dior beauty event, she's accompanied by cherry-red nail polish and her husband, Black Swan on-set choreographer Benjamin Millepied.
Gothic Glamour In 2016
Edge suits Portman remarkably well, as evidenced by her dark, moody — but very romantic — red makeup look in 2016. She doubled up on the drama with dark brown eyeshadow and a smudged-out lower lash line.
Blonde Ombré Lob In 2018
Portman's long, elegant bob got a summery twist when she added honey-toned highlights to her warm brunette hair. An ombré color technique, the blonde starts lower and fades into its lightest shades through her tips.
Black Swan-Inspired Makeup In 2022
Portman brought out a series of bold, experimental makeup for her Marvel movie press tour, but this one takes the cake. Like a glitzy, bronze version of her makeup in Black Swan, the ultra-exaggerated wings are ready to take flight.
Simple Shimmer In 2023
Celestial is the only way to describe this head-to-toe shimmer-enhanced look at Cannes 2023. With her low-key highlights straightened and center-parted and a delicate dusting of sparkly eye shadow, the entire aesthetic is just heavenly.