Flaky Hair? Add This One Product To Your Routine
Massage your way to a healthier scalp.
@aprilmbuckles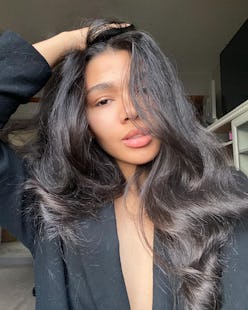 We may receive a portion of sales if you purchase a product through a link in this article.
As the largest organ of the body, the skin plays an important role in overall health. It provides protection against external factors, like bacteria and pollution, and can even heal itself. In short, it needs to be handled with care. From properly washing your skin to ensuring it's adequately hydrated and moisturized, you become in tune to what it needs over time. However, your skin isn't the same from head to toe. So caring for your scalp requires a different routine than what you'd follow for your face. Yes, shampoos wash it, and, sure, scrubs help slough off dead skin and product buildup, but it can benefit from concentrated treatments, too. That's where scalp serums come into play.
Scalp care in general has been a buzzy topic in the beauty industry as of late. With an emphasis on spa treatments like stimulating massages, the uptick in serums on the market comes with little surprise. "The scalp is skin, and being an innervated, highly vascular, and oil-rich tissue with a unique microbiome, it benefits from specialized care," says Anabel Kingsley, trichologist, owner, and brand president of Philip Kingsley.
Below, TZR tapped several industry experts including dermatologists, a cosmetic beauty chemist, and a trichologist to get the lowdown on why these unique products should be part of your arsenal.
What Are Scalp Serums?
According to Dr. Neil Sadick, M.D., board-certified dermatologist and founder of Sadick Dermatology in New York City, scalp serums are designed to target and address various issues like dandruff, irritation, and dryness. "Like a face serum, these are typically formulated with a combination of active ingredients including vitamins, antioxidants, plant extracts, essential oils, and peptides that work together to nourish, soothe irritation, balance oil production, and promote circulation."
Given that your scalp is the foundation for your hair follicles, it's important to enrich it with ingredients that will create a healthy environment for growth. Dr. Nazanin Saedi, M.D., board-certified dermatologist at Dermatology Associates of Plymouth Meeting in Plymouth Meeting, Penn., also notes that "serums offer highly concentrated levels of ingredients in order to absorb and treat the skin on your scalp."
Scalp Serums Vs. Scalp Oils
It's important to note that scalp serums and scalp oils are not the same. As Kingsley tells TZR, serums are concentrated formulas that are usually mixed into a water base and while they may contain oils to help with moisture retention, they are not the main ingredient. Scalp oils are heavier, greasier, and typically not the best choice for maintaining scalp health.
"The skin here contains thousands of oil glands and is by nature an oily environment," says Kingsley. This is why applying oil alone or directly to the area is discouraged. Not only can it weigh your roots down, but it can also exacerbate issues like dandruff and seborrheic dermatitis. Don't get us wrong, scalp oils can be beneficial for a number of hair types to stimulate blood flow, and nourish the skin — when used as a pre-wash treatment. But when kept on the scalp for too long the oils can quickly build-up. "If your scalp is dry, it's due to a lack of water not oils and a serum that contains humectants and a small percentage of a lightweight oil is more ideal to lock in moisture," she says.
The Benefits Of Scalp Serums
Regardless of your hair type or scalp condition, everyone can reap the benefits of a serum. "Along with improving the overall health of your skin and hair, these products can work to decrease flaking and subdue inflammation," says Dr. Jodi LoGerfo, D.N.P., a nurse practitioner specializing in dermatology at Mount Sinai Medical Center in New York City. But their advantages can also extend to deeper internal concerns. As Dr. Sadick explains, many are made with ingredients, like adenosine triphosphate and saw palmetto that balance hormones and help stimulate blood circulation — which can ultimately lead to healthier new growth and potentially reduce thinning and hair loss.
Incorporating a serum into your hair care routine is a simple step that should follow your standard washing regimen. After towel-drying your hair, divide it into sections, apply the serum, and gently massage it into the scalp. Some serums are rinse-out formulas, but most absorb quickly and can be extra beneficial when applied in the evening before bed. Kingsley says this is "when your skin's permeability is best and transepidermal water loss is at its highest."
Finding The Right Scalp Serum
Choosing the right scalp serum follows the same guidelines as facial products. First, determine the particular condition you want to improve, then select a product that targets said issue. With that in mind, there are a few key ingredients to look for. According to David Petrillo, a cosmetic beauty chemist and founder of skin care company, Perfect Image, if you're suffering from dryness, natural components like hyaluronic acid and vitamin E will help rehydrate the scalp and seal moisture in, while tea tree oil will deter bacteria. "Exfoliation is just as important as hydration and serums containing actives such as salicylic acid, glycolic acid, or lactic acid will gently remove buildup without stripping natural oils," he says.
Certain buzzy skin care ingredients can also be a good asset for your scalp. Dr. Sadick tells TZR that peptides can help stimulate collagen production, caffeine can invigorate blood circulation, and panthenol (provitamin B5) is a powerful humectant that attracts and retains moisture. However, when it comes to hair loss specifically, he recommends looking for a serum that includes the aforementioned saw palmetto. "The botanical extract is frequently linked to hormone behavior and may help inhibit the conversion of testosterone to dihydrotestosterone, which is linked to hair loss and thinning."
If you're on the hunt for a good scalp serum to add to your hair care line up, here are a few beloved by the experts.
Shop The Best Scalp Serums