Britney Spears' Best Beauty Moments Helped Define An Entire Generation
KMazur/WireImage/Getty Images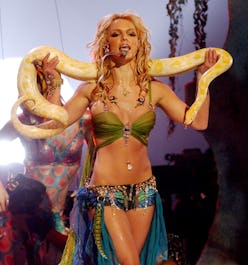 The sheer number of lyrics one could reference right here only speaks to the power of the legendary Ms. Britney Spears. When most kids her age were mastering the A-B-Cs, Spears was enrolled in dance intensives, belting out the commencement song at her kindergarten graduation, and preparing to move cross-country for her first showbiz contracts. Is it any wonder she'd be dubbed the undisputed Princess of Pop before her 21st birthday? But for all her musical impact, Spears' instantly-recognizable aesthetics simultaneously helped define a decade — and ultimately, an entire generation. Spears' best beauty moments all come from different points in her career, spanning music videos, street style, and red carpets alike, but they're all tied together by a common thread: her penchant for the playful.
If you're of a certain age, there's a chance Spears is a part of your childhood memories. Her now-infamous pigtails for the "...Baby, One More Time" video was plastered on every screen, her smoky eye makeup from "(You Drive Me) Crazy" got immortalized in Barbie doll form, and body glitter flew off the shelves when she walked out at the 2001 MTV VMAs covered in sparkle — and a snake. Spears' influence can partially be attributed to the way she can seamlessly flit between the proverbial girl-next-door, complete with a sweet Louisiana drawl, and the larger-than-life superstar she becomes in front of an audience.
As Spears invites fans to take a look back at her life with the release of her memoir, The Woman In Me, venture through her immeasurable impact on pop culture with this roundup of her most iconic beauty moments.
Tour-Perfect Pigtails, 1999
How often does a singer's very first studio album yield a) runaway success, and b) a signature look? Spears' braided pigtails from the "...Baby, One More Time" video is so instantly-recognizable that other celebrities still use it as a Halloween costume, but she kept the trend going through the album's supporting tour.
Sleek In Silvers, 2000
Looking every bit the sparkling starlet at her second-ever Grammy Awards, Spears wrapped herself in a white fur stole in homage to her legendary "Lucky" music video. Keeping in line with her white fur stole, diamond necklace, and the overall aesthetic of the impending new millennium, she wore her layered hair stick-straight, with silvery eyeshadow and a frosted lipstick.
Creamy Highlights, 2000
Spears burst into the 2000s with all sorts of stylized music videos and red carpet appearances, but special attention must be paid to her hair-makeup combo for "Oops...I Did It Again." The year was all about futurism, which Spears brilliantly incorporated with matte eyeshadow in a milky, otherworldly shade and creamy highlights to match.
Blown-Out Country Curls, 2001
Sure, most of the focus here goes to the now-infamous double dose of Canadian tuxedos, but Spears' beauty choices really helped sell it. Her brushed-back barrel curls are pure country and so sweet, especially against her soft pink blush and glossy lips.
Big Screen Updo, 2002
Spears channeled all her girl-next-door charm into her big-screen debut. Crossroads is now a key part of the '00s teen cannon, and it's partly thanks to just how well Spears can play down-to-earth. She wears sporty ponytails, pigtails, and half-up looks alike — it's an impressive hairstyle lineup for a 105-minute movie.
Tons Of Choppy Layers, 2003
The "In The Zone" era was all about major sensuality, which translated into Spears' choppy, layered haircut at the time — she was all about the artfully tousled bedhead. The look's seen in all of her videos from that album cycle, including "Toxic" and "Outrageous", but it all pales in comparison to the 2003 MTV VMAs where she capped off her Madonna duet with a kiss.
Her 'Curious' Fragrance, 2004
If you were a teen in the 2000s, you either had Spears' Curious perfume or wanted it so bad that you simply rewatched the steamy commercial over and over again. The advert features what you might call Classic Britney: smoky eyeliner, gently-mussed curls, and tons of warm bronzer.
Brunette & Baby-Ready, 2006
To this day, Spears says motherhood is the most wonderful experience of her life. Is it any wonder she was this radiant at the 2006 Teen Choice Awards while pregnant with her second child? Showing off her new deep brunette hair, she's all smiles as she introduces the next act onstage.
Glistening Mermaid Waves, 2008
Britney Spears, triumphant. After a troubled few years, the star was back on top as she accepted the top award at the 2008 MTV VMAs for her "Piece Of Me" video, part of her acclaimed comeback album, Blackout. For the major moment, she opted for long, glistening mermaid waves, silver eye makeup to match her beaded gown, and one of her beloved French manicures.
Blunt Bob & Red Lips, 2009
Music videos are one arena where Spears really gets to play, and it comes through in her love for wigs and full-body transformations. For the "Womanizer" visuals, she wears a vampy, dark red wig and her own blonde curls, but this blunt bob with bangs in an alluring shade of raven — not to mention the matte red lipstick — is so different that it's especially exciting.
Signature Smoky Eyes, 2011
Imagine being in the presence of not one, but two all-time music-beauty-fashion icons. Rihanna's bright red hair was a calling card from her Loud era, and it's the perfect visual foil to Spears' bright, buttery blonde. The pair performed their remix of "S&M" at the 2011 Billboard Awards, undoubtedly the night's best live act.
Nodding To The Past, 2013
Part motivational speech, part club banger, Spears' 2013 single "Work B*tch" provided a brilliant visual opportunity for the star to "reflect" on her own hard-won success in the music video. In one especially iconic scene, she sits at a vanity with her long hair is pulled into a glamorous, beachy waves half-updo. And what's right there on the counter? A pink bottle of Curious perfume — which did $100 million in sales in 2004 alone, by the way.
Unicorn Ombré, 2015
By 2015, Spears was shaking things up yet again with all sorts of fun additions to her long, warm-toned blonde hair. For the 2015 Teen Choice Awards, she decided to get a rainbow's worth of color added to her ends, each fading into the next.
A Tiny Tattoo, 2019
Fun fact: Spears has at least nine (known) tattoos, including this lipstick-print kiss mark on her right wrist. It's not often that she shows this one off, but it was a perfect shade match to her scarlet one-shoulder gown on the red carpet in 2019.
Wispy Baby Bangs, 2022
These days, Spears likes to stay out of the public eye, preferring to control her own image through self-posted Instagram dispatches. In a 2022 photo taken in her sunny backyard, Spears showed off her ultra-trendy wispy bangs, softly falling from her half-up hairstyle.