Rihanna's Beauty Evolution Is A 15-Year Encyclopedia Of Hair & Makeup Trends
Endless inspo from the Bad Gal herself.
James Devaney/GC Images/Getty Images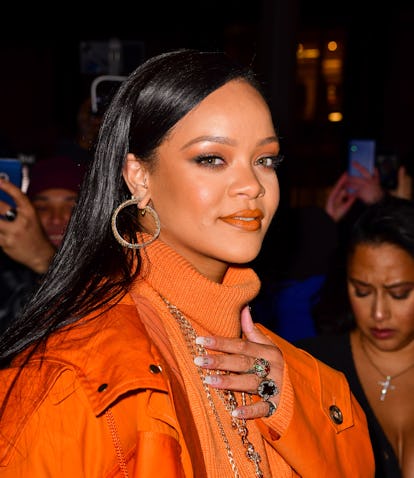 There are only few celebrities who have ever achieved mononymic household name status, but even among that extremely elite group, Rihanna is something special. From her earliest days in the industry, it was clear that young Robyn Fenty was destined for the A-list, first introduced as Jay-Z's charming pop protégé from Barbados. Almost immediately, though, she carved out her own path, her own distinct vision, and it's that free-flowing creativity that makes her...well, Rihanna. As such, she seizes red carpets, fashion shows, and brand events as opportunities to let the real her shine. Rihanna's beauty evolution is filled with every possible hairstyle and makeup combination, with looks as versatile as her rich music catalogue.
"She's an open book," Yusef Williams, her longtime hairstylist, previously told TZR. "She'll tell you what she doesn't like, but she definitely wants to hear what you have to bring to the table — she wants to see how far you can push her," he adds. Williams started doing the star's hair after being introduced by her makeup artist, Mylah Morales, who's worked with RiRi from day one. Morales says he first met Rihanna when she dropped "Pon De Replay" back in 2005. "Her makeup aesthetic has always been like, let's make her the cool girl to look up to," Morales explained to TZR in 2021. "It's always been based around fashion, and I wanted to keep her glowy and beautiful, but then edgy at the same time." Is it any wonder Rih would go on to start her own global beauty empire years later?
Ahead, explore some of Rihanna's all-time best beauty moments over her lengthy career, many of which created by Williams and Morales themselves.
Fresh Face, Long Fringe
With long, sweeping bangs and bronzed makeup for the beachy vibe of her studio album debut, Rihanna took the fresh-faced and sun-kissed approach at a radio event in 2005.
Blonde Streak & Bold Length
For Rihanna's makeup at the VMAs in 2008, Morales applied a navy eyeliner and a baby pink lip complemented with golden skin. Her asymmetric, choppy pixie cut would become her signature style, helping spark a massive trend and kickstart her status as a bourgeoning beauty icon.
Rih's First Red Era
Rih would try red many, many (many) occasions over the years, but there's always something special about the first time. In 2010, Rihanna arrived at the MTV Europe Music Awards with bright red hair and soft pink makeup to balance the fiery shade out.
Retro Glamour For Victoria's Secret
"This look came so last-minute," Williams told TZR in 2021. He says the goal was to make the hair look like a sculpture, which he achieved by wetting her locks and creating finger waves. "It's probably one of my favorite looks I've done with her," he notes. As for her makeup, Morales did a vampy burgundy lip with glowy skin and a really clean eye. "All of these looks required lashes," she explained. "I always top it off with a really natural or dramatic lash."
Side-Swept Pixie Cut
For Rihanna's makeup at the AMAs in 2013, Morales says she swiped on a really dark kohl eyeliner with a very strong cat-eye and beigey-nude lip. Her close-cropped pixie is brushed far to the left for maximum shine.
Ethereal Red Carpet Curls
"That was dreamy," Williams said about Rihanna's hair for the MTV Movie Awards in 2014. "The idea of that was to be super soft, very effortless, and just angelic." To play up the ethereal, fairylike feel, Rih wore softer, shimmer-enhanced eye makeup and some delicate lip gloss.
The Smokiest Eye Makeup Ever
Morales called this 2014 CFDAs look "iconic", and it's absolutely true. "She was nude practically, so I wanted the focal point to be on the eyes." And for her hair, Williams says she had a super tight bob. "We were basically trying to figure out if the durag was too much," he explained. "So I gave her this super chic finger wave underneath because we were like, what if we don't like it? It was super tapered and beautiful. You can see some of the sideburns that swing out."
Elegant Nudes
Exuding ingenue elegance at the 2015 Grammy Awards, Morales told TZR that Rihanna wanted a "babyface" look for the night. Her soft, refined makeup is just enough to play up her natural features, with her hair pulled back in an effortless bun.
Straight Brows & Flipped Ends
It was the moment Rihanna sealed her reputation as the Met Gala darling. Her flipped-out red bob and straight eyebrows brilliantly helped pull together her entire look in 2015.
Major Met Gala Makeup
"The only thing we could do [with her hair] was to go up because that outfit was [going] sideways, downwards, [and all] around," Williams told TZR, describing how the look came to be. "Therefore, he opted for a tight topknot. He said they decided on the long bangs a little later to soften the look up, calling it "the icing on the cake."
Wrap-Around Braids In 2019
Williams said that for Rihanna's hair at the British Awards in 2019, the two wanted to do something soft, pretty, and very youthful. "She looks like a 12-year-old when she braids her hair," he explained. "This dress was super sexy and really flirty, so I was like we need to go young and fresh. She looked like Baby Rihanna that night."
Box Bubbles & Bold Lips
At the virtual Fenty Skin launch party in 2020, Williams decided to pull Rihanna's hair back to show that her products actually work. "This was an homage to my childhood doing my sister's hair," the hairstylist told TZR. As a kid, Williams would play with rubber bands and create fun looks with his sibling's strands, recreated for Rih as boxed bubble braids.
Punky Plums
Even when opting for a more low-key outfit (low-key for her anyway), Rihanna always has fun with her hair and makeup. Glossy tendrils spill down from her crystal beanie, while dusty plum eyeshadow and lipstick — part of the ultimate punk color palette — adds some edge.
Shining In Silver
Does it get any more stunning? Draping her pregnant belly in a long strand of diamonds, Rihanna played up the whole platinum theme with silver eyeliner and a matching outfit for Fenty Beauty's Ulta debut in 2021. Her flipped ponytail helps show the whole thing off.
Her Big Super Bowl Moment
What better choice for her groundbreaking Half-Time performance than her signature shade? Rihanna's red lipstick felt classic, fun, and so her at the 2023 Super Bowl — and all the press events surrounding it.
Elegant Updo At The Oscars
As mentioned above, Rihanna's beauty choices all help maximize the effects of her wardrobe — as beautifully demonstrated on Oscar night 2023. Her sculptural updo, full of shine and defined shape, mimic the structure and volume of her velvet gown.
Full-Circle Long Bangs
Now pregnant with her second child, Rihanna delighted fans by trimming a new set of long, sultry bangs. In a way, it's the sweetest full-circle moment — it all began with bangs, and here we are once again.
This article was originally published on