Sofia Richie's Latest Updo Might Even Be Better Than Her Signature Bun
@sofiarichie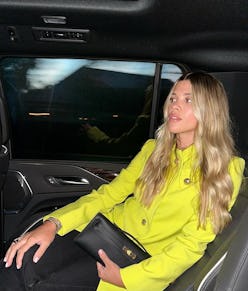 If it's not broken, don't try to fix it — but you can innovate it, which is exactly what Sofia Richie did with her now-iconic gelled-down bun. For months, the star's go-to look for lazy days and major occasions alike has ruled the internet. Really, the only thing that could possibly topple its reign is a remixed take on the same style that might be even more user-friendly than its originator. Richie's slicked-back ponytail incorporates the best elements as her other trademark updo, but features a trendy, sporty twist perfect for the months ahead.
Seen in an unbeatable white T-shirt-jeans combination, Richie's swingy ponytail is a seamless extension of her polished yet low-key L.A. style. The very front of the hairstyle features a few inches of laser-precise center parting, then pulls it all back into a slicked-down, upswept pony with zero detectable flyaways. This means Richie's likely employed the exact same tricks and products she uses to keep her signature bun so immaculate. In a TikTok tutorial, Richie shared that she actually replaced her hair gel with conditioning masks instead — it offers same smoothing effect, plus all its formulation's restorative properties. The move easily translates to her ponytail look.
Critically, the position of her ponytail plays into her viral "old money" aesthetic as well. Place the tail too high, and it feels like cheerleader hair. But go too low and risk entering "Founding Father" territory, a running joke on beauty-centric corners of TikTok — though Fashion Week runways are suggesting their imminent comeback.
While the upper portion of Richie's pony is totally sleek — likely thanks to her beloved Christophe Robin Regenerating Mask — her hair's loose-flowing length is full and wavy, but still probably coated in some oil or other protective product. Of her bun, Richie said in her TikTok that she usually starts with wet hair, spritzes it all in detangler, then carves out her part with a long-tail comb.
Critically, she separates the front sections of her hair and secures the rest first, which she calls the secret to getting it all to lay so flat against the head. If you feel like your ponytails are often bumpy, uneven, or raised, this method corrects all of it.
Richie's brilliant tricks, just as much as the look of final product, is the reason so many are gravitating toward the style — celebrities and civilians alike. Eva Longoria even told TZR that she never felt like she had "the right head shape" for slicked-down hairstyles before trying out Richie's hack. It wouldn't be a stretch to imagine her revolutionizing the ponytail game now too.