Kendall Jenner & Lori Harvey Are Both Drawn To This Itty-Bitty Nail Art Trend
@loriharvey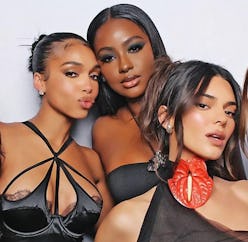 They're like the chicest superhero duo ever. Individually, Kendall Jenner and Lori Harvey are two of the most stylish, influential young women in the entire entertainment industry — if they wear it, so it shall trend. But what happens when the pair effectively team up, wearing the same hairstyle or nail art, or tap into the same makeup trend? Get ready for their look du jour to hit stratospheric levels of saturation. In other words, get ready for Harvey and Jenner's micro-French manicure to be everywhere almost immediately — practically by the time you're finished reading this, in fact.
Though the two friends were wearing the miniature version of the beloved manicure style around the same time, they were created for two totally different purposes. While Harvey's version is just a little longer and more overtly elegant in her new Valentino Liquirosso lipstick-sponsored Instagram video, Jenner's is squared-off and sporty in a photo dump from her latest trip up to the mountains. Actually, both women wore their French tips over square-shaped nails, but even the thin white lines on Jenner's featured rectangular edges for a more casual look. As interesting takes on nail tips continue to be so popular, Harvey and Jenner offer up two equally sleek ways to make the look work for any situation.
Both iterations of the manicure are totally in line with the pair's personal styles, too. Harvey is as classically glamorous as it gets with a penchant for sleek, timeless hairstyles and sultry-sophisticated outfits on the red carpet and in her personal life.
On the other end of the spectrum, Jenner is all about a bold, body-baring public moment but populates her personal life with more outdoorsy activity like horseback riding. In turn, her manicures are always a little more low-key, particularly when compared to her famous sister and friends like Harvey and Hailey Bieber.
It just proves the versatility of the French manicure as a whole — and explains its enduring popularity. With so many different ways to wear the the look, you'll never exhaust all the possibilities out there. Jenner and Harvey sure haven't, and they have more access than anyone.