Consider This Your Cue To Start Using A Setting Spray
Turns out it's an essential.
@morphebrushes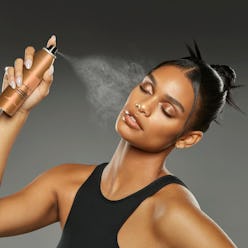 We may receive a portion of sales if you purchase a product through a link in this article.
Fact: Most makeup is not supposed to withstand 24 hours of wear time. Yet, the slightest smudge, smear, or worse, the oxidization of products during the day will make you cringe. Sure, there are long-wear foundations and powders to keep your makeup fresh, but just a few spritzes of setting spray will lock any look in place. These fine mists had a surge in popularity during the days of intense contouring and matte looks. However, with the 'clean girl makeup' era continuing to thrive, one question begs to be asked: should you be using a setting spray?
If you recall the full-face looks of popular early 2010s YouTubers, you probably remember that no routine was complete without a light (or in some cases heavy-handed blast) of setting spray to keep your look intact. But according to New York City-based makeup artist Christine Cherbonnier, the sprays of the past have evolved to tailor to current trends and common skin concerns. "Though traditionally used to prolong the wear of your makeup, today's formulas are doing so much more," she says.
Ahead, TZR chatted with two top makeup artists to better understand the benefits these mists can provide and whether they're an essential step in your beauty routine.
What Is A Setting Spray?
Before diving into the latest formulas, it's important to define the product. According to celebrity makeup artist, Janice Daoud, a setting spray is a liquid mist that is meant to keep your makeup in place and looking fresh all day long. "These products are more like tools made to prevent fading and smudging," she says. Typically formulated from a blend of water and alcohol, the spray works by merging polymer droplets to form a shield-like film. With its use intended to extend the life of your look, setting sprays are most often spritzed on at the end of makeup application.
The Benefits Of Setting Spray
A smudge-proof, water-resistant look is a common end goal for makeup application. So the use of a setting spray can come in handy for special events or days when heavier coverage is needed. As Cherbonnier tells TZR, "It will easily prolong the wear of applied makeup or assist the skin in creating an ideal canvas for makeup before applying."
She also notes that while the original purpose still remains, modern setting spray formulations are also solving other major makeup application concerns. "Oil control and moisture loss are two major issues when it comes to makeup, but using a setting spray can actually be beneficial for them both," says Cherbonnier. Regardless of what product formulations you use, makeup creates an additional layer on top of the skin. Depending on the formulation, some products can be drying especially if you have deyhdrated skin. But with the use of a hydrating setting spray, you can lock in your makeup and moisture in one swift spritz.
Sprays can even provide some advantages to bare skin, depending on your skin type and the formula you're using. "Some setting sprays promote oil control to prevent makeup from breaking down throughout the day and add moisture to the skin," says Cherbonnier. This can be extremely useful for oily skin types who want a smooth makeup texture that won't get cakey throughout the day.
For drier skin types, Daoud notes that an alcohol-free formula will aid in preventing the skin from getting dehydrated after makeup is applied. "If you have naturally dry skin, a moisturizing setting spray will rehydrate and provide a dewy finish to keep your makeup from looking too dry," she says.
The 2.0 Era Of Setting Sprays
With the skinification of makeup and minimalist looks still going strong, many product categories have transitioned to an ingredient-focused approach, and setting sprays are no different. "Today's formulas are meant to target a range of skin types and common skin concerns," says Cherbonnier. Thanks to innovations from a number of brands like Milk and Rare Beauty, some setting sprays double as a skin primer, thanks to formulas with enriching ingredients.
Take the latest launch of Morphe's Continuous Prep & Set Mist+. With ingredients like ceramides, licorice root extract, and antioxidants, it's meant to nourish and strengthen the skin's barrier — two words not usually associated with the setting sprays of the past. But as Cherbonnier notes, skin care-oriented setting sprays not only provide prolonging benefits, but can also be utilized daily, even when makeup application is light. "I don't think setting sprays are labeled as one particular product these days, and can range from a hydrosol, rose water, or a traditional setting spray," she says.
Whether the formula has a slight tackiness for makeup to stick to skin or acts like a shield to lock products in place, she believes that incorporating these products can be "a total game-changer" for troubleshooting issues with application and wear.
Maybe you've stopped using setting sprays after the rise of minimal clean girl looks or maybe you've never used one before. Either way, today's options take a conscious approach to formulation, so they're worth trying out. But the question still lingers: do really need to use a setting spray? Maybe not every day unless you need to extend the lifespan of your look. But can it be beneficial? Absolutely, and in more ways than one.
Shop The Best Setting Sprays