Amal Clooney Channeled The Best Of '70s Beauty For A Romantic Night In Sicily
Daniele Venturelli/WireImage/Getty Images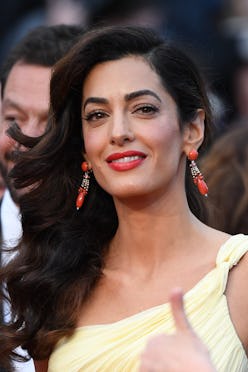 Those who lived through it may be adamant that disco is largely dead, but there's a contingent of younger celebrities dedicated to keeping the decade-defining movement alive through aesthetic alone. Amal Clooney is one such star — though she was born the same year legendary nightclub Studio 54 first opened — she's often channels the best of the '70s through her hair, makeup, and wardrobe choices. For her latest event, attended with her husband, Clooney's tight curls and shimmery were directly inspired by the disco era, a glittering tribute to one of the beauty industry's most iconic individuals.
Clooney's look was developed for Charlotte Tilbury's 50th birthday, an international blowout in Sicily, Italian media reports, featuring a '70s-themed celebration and plenty of A-list attendees. Celebrity hairstylist Dimitris Giannetos actually created both Clooney's tight, disco-perfect curls for the event, as well as her shimmer-dusted makeup look. Giannetos, who also counts Ciara and Gigi Hadid among his high-profile clientele, uploaded a first glimpse at Clooney's look for the night. In the adorable photo, the attorney-activist is posed next to her husband, George Clooney, looking appropriately dapper in his close-trimmed beard and classic black tuxedo ahead of the big party.
Hairstylist Luca Pagani assisted Giannetos with Clooney's glossy curls. Though she often wears her long, warm brunette hair curled, her party look features tighter spirals and more individual definition than usual — and it only serves to highlight the gold tones found through her ends. Many fans were quick to note in the comments section that Clooney's nude lips are a major departure from the siren-red shade that's become something of her signature.
A closer look at the lips shows they're defined with some darker nude liner, then filled in with a lighter shade not too different from her natural color. Naturally, Giannetos revealed on Instagram that Clooney's look used a lineup of Charlotte Tilbury products. She's a longtime friend, fan, and muse of the artist — Tilbury even did Clooney's makeup for her 2015 wedding. Not only is this '70s-themed party moment extremely on-theme, but it's a touching, shimmering salute to a beloved beauty community fixture.