Your Crash Course On Applying Blush Like A Professional Makeup Artist
Bobbi Brown, Donni Davy, and Vincent Oquendo spill their secrets.
@hungvanngo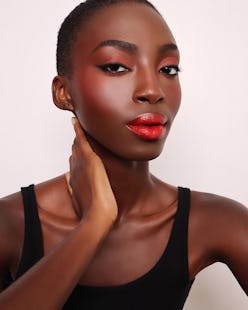 We may receive a portion of sales if you purchase a product through a link in this article.
There's a variety of reasons why a percentage of the makeup-wearing population doesn't wholeheartedly embrace blush. The biggest factor being there's a learning curve to applying rouge, despite how intuitive it seems. Yes, there really is more to it than just smiling and tapping some onto the apples of your cheeks. The truth is, we're all blush people — some of us just don't know it yet. To convince even the most averse to the product, TZR gathered the best blush application tips from pros who know the transformative power of a flushed cheek.
The indisputable master is makeup artist Bobbi Brown, founder of Jones Road Beauty. Brown has been a blush advocate for most of her career, and she's really mastered the art of perfect placement for the most natural of flushes, making even the boldest of shades somehow look effortless.
Then there's Vincent Oquendo, a celebrity makeup artist, who works with Jenna Ortega, Gabrielle Union, and Lily Collins, who also knows the power of a snatched cheek, and he often uses blush as a tool to give a sculpted, lifted look to his celebrity clients.
Rounding out the blush think-tank is Donni Davy, the founder of Half Magic Beauty and head Euphoria makeup artist. Though Davy's known for her fantastical eye looks, she's also a blush girl at heart, and wants makeup lovers to experiment with both natural and neutral shades, as well as dramatic colors and finishes that really bring the drama (duo chrome glow powder, anyone?) which is very on brand for her.
Below, the three makeup pros dissect the most common reasons why people avoid blush, and share ways to rise above what's holding you back, so you can really step into your blush era.
How To Apply Blush On Uneven Texture & Acne Scars
Those whose cheeks that have acne scarring or texture issues often notice some products enhance those concerns. So, choose the texture of your blush wisely. "A powder is preferred over a cream blush because cream will get into the skin's texture," says Brown. Her top tip is to start by using a very sheer face powder to give a smooth base to the skin, and then apply your powder blush over that for an even finish.
Oquendo suggests a similar, if more intense approach — baking. For those who aren't familiar, this is the TikTok-favorite technique of applying a setting or translucent powder after foundation and concealer to the areas of the face that tend to crease or cake throughout the day. After letting powder sit for about five minutes, you dust off the remaining product for a long-lasting finish. Once your base makeup is applied, the makeup artist suggests baking the undereyes as well as the full cheek. Then, with a soft, fluffy brush gently pat on a super pigmented blush. "Beware of swiping when you are trying to avoid showcasing unwanted texture. Instead, try patting products on," he says. He advises starting with a soft color, working your way up to brighter or bolder tones as you gain proficiency. His products of choice are Haus Labs' Bio-Blurring Loose Setting Powder and Color Fuse Blush.
Davy says issues like these led her to formulate Half Magic Beauty's Cheek Fluff blush. She created a product that straddles both the powder and cream worlds, settling on a hybrid finish that complements all skin types.
How To Use Blush To "Lift" The Face
The cheeks naturally descend with age, and drawing attention to that area with color only enhances the effect. If you've stopped wearing blush for that reason, simply change where you put it. The cabal of pros TZR spoke with have a few positioning options to experiment with, so you can discover one — or a few — that work best.
For an effortless vibe, Brown says that the apple of the cheek is still the best area to target for the most natural color, and she recommends sticking with that, adding small modifications. "Just smile and apply blush to the apples of the cheeks, so it gives you a natural flush. Then, use your brush to extend the blush towards the hairline. This will soften the look and naturally lift the face," she says. Oquendo's favorite recommendation for a lifting effect with blush is to mix your blush with your bronzer or contour powder, and apply it higher and further back for a dramatically lifted, snatched look, like Ortega wears, below.
Davy agrees that placement makes all the difference. "For a youthful, sun-kissed look, place your blush on top of your cheekbones, where the sun would naturally hit you. My latest favorite blush placement that looks flattering on all ages, is to place the blush on the outer apples of your cheeks, and then swoop it up toward your temples and down toward the corners of your mouth," she says. If you keep it very blended and subtle, Davy assures this diagonal blush placement will create a gorgeous, sculpted contour moment.
How To Wear Blush If You Have Oily Skin
Summer calls for a glowy, flushed cheek, but the season's increased humidity proves challenging for those with sebaceous glands on the more active side. In those situations, cream blushes feel uncomfortably sticky, or just slide right off after a few hours. Here, again, picking the right formula is what will move the needle.
Both Oquendo and Davy's choices are a hybrid formula. Again, Oquendo says Haus Labs' Color Fuse Blush's cream-to-powder formula is perfect for this situation, as it applies like a cream but sets to a non-powdery velvety finish. "Also, it's highly pigmented, so it has qualities of a longwearing product. You don't use as much and it really stays put no matter if you have oily or dry skin," he explains. Davy says she never reaches for cream blushes in summer, opting to use those in the drier months when she wants to add hydration to her skin. "I'm not a big fan of powdery blushes, though either. I love a hybrid texture like a cream-to-powder," she says. Her Cheek Fluff blush's duvet-like plush texture is perfect for year-round wear. Danessa Myricks Beauty's Yummy Skin Blush, a balm formula with special oil-absorbing technology that sets to a polished finish, also deserves a special shout-out.
But if you're set on wearing a cream formula, Brown comes to the rescue with that trustiest of all tools — translucent powder. "I always recommend starting with a face powder, especially during the summer when it's humid. Then, apply the cream blush on top of your face powder so the skin doesn't get shiny," she says.
How To Apply Subtle, Natural Blush
Blush is a guaranteed way to bring freshness and color to the face, but some days call for a monochrome moment and skip over blush or reach for bronzer instead. While going blush-less is a totally legit look, it's really worth having some neutral-toned shades in your kit to bring out a healthy flush. "The best way to pick the perfect color blush for you is to pinch your cheeks and/or look at the color your cheeks turn when you just finished exercising," says Brown. "That perfect glow is what you're looking to achieve, because that's the most natural color of your cheeks."
Brown offers one more tip if you want to dial it up a notch. "I like to layer two colors. The natural flush of the cheeks, and then a pop of something brighter so it brightens your look and stays on throughout the day," she says. It's the secret behind achieving the healthy, signature flush she's known for.
If you're currently chasing the quiet luxury trend in your fashion choices, you can extend it to your makeup, too, with a netural shade of blush. "In that case, you're going to want to stay away from cool or bright pinks. I'd go for peachy pinks and rosy browns," says Davy. She created two shades perfect for this sitch: Pink Mushroom for paler tones and Magic Brownie for deeper melanated skin. Magic Brownie is Davy's signature rosy-brown shade, it appears in several of her products and at this point, it has a fan-base big enough for its own Euphoria spinoff.
If you're not too sure this look is for you, test it out first with a nude lipstick. "One of my favorite tricks for picking your best neutral tone blush is to just take your favorite neutral-toned lipstick, apply a dot of it on your cheeks as a blush and blend it out with your fingertips. It will work with the colors of your face in a beautiful monochromatic way," says Oquendo.
How To Layer Blush With Other Complexion Products
Don't apologize for your maximalist tendencies, because there's absolutely a way to wear a few, or even all these products together. In fact, makeup artists do it all the time to achieve a sculpted 3D cheek. "When I first started doing makeup, someone explained to me if you want to figure out your perfect placement for blush and contour, go somewhere that has overhead lighting and take a picture of your face or a selfie," says Oquendo. Then, put your contour to mimic wherever the shadows hit you, to enhance your bone structure's natural contours.
"Place bronzer on the places on your face where the sun would give you a nice tan like your cheeks, the top of your forehead, even a little touch on your nose and the front of your chin," explains Davy. Blush is what bring the color and life into your complexion, and depending on how you want to sculpt your face, place it either high up on your cheekbones, on the apples of your cheeks, or in the diagonal way Davy previously described. "The blush can totally overlap with the bronzer on your cheeks. You are layering colors and painting, not putting together a puzzle," she says.
Save highlighter for the highest points of your face, like the tops of your cheekbone. Don't worry if you already have blush or bronzer in that spot. "The purpose of highlighter is for the light to hit it and give a beautiful glow, accentuating that part of your face," Davy says. Apply with a narrow, fluffy blush to really target the right areas. Eyeshadow blending brushes work great for precise highlighter application.
How To Apply Blush If You're A Makeup Newbie
Blush has a reputation for looking clown-like when too much is applied, which has many makeup newbies staying away out of fear. Oquendo wants you to embrace blush, keeping in mind that less is more. "If you're in doubt, just apply it lightly and figure out your comfort level. Practice makes perfect and you will get better with your application the more you wear it."
For Brown, a natural color blush and a really great rounded brush (like Jones Road's The Blush Brush) is the starting point. "Smile and apply to the natural apple of your cheeks and up into your hairline to soften the look all around," she advises. Davy's suggestion is to pick up any shade, keeping the application really sheer. "Don't panic about which shade to use. If you're a super beginner, just start experimenting with how different shades look with your skin tone," she says.
And even though people say there are no rules in makeup, there really is one universal commandment, the enduring mantra of Blend, blend, blend, blend. Nowhere does it apply more than in the blush realm. "Just get familiar with the act of blending. Blend even more than you think you should," says Davy.