I'm Not A Body Lotion Fan, But Abi Amé's Summer Skin Has Made Me A Convert
Hydration without the infamous greasiness.
Courtesy of Abi Amé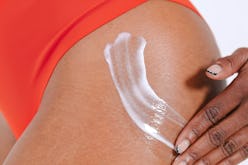 We may receive a portion of sales if you purchase a product through a link in this article.
In our series Trial Run, TZR editors and writers put the buzziest new beauty products to the test and share their honest reviews. This week, writer Megan McIntyre is testing Abi Amé's Summer Skin.
I have always been someone who has taken exceptional care of my skin, ever since I was a baby beauty editor first learning my hyaluronic acids from my glycerins. It's probably the reason (well, that and good genes — thanks mom) that as I rapidly approach my 40th birthday, I often get looks of disbelief from the youth when I reveal my age. Unfortunately, I haven't been quite so diligent with my self-care for the skin below my neck and I'm starting to see what happens when age and dehydration form an unholy alliance.
The cracks and crevices of my hands, arms, elbows, stomach, and legs have all begun to develop a crepey texture, and the slightest hint of looseness has me running to research skin tightening options with the speed of an Olympic sprinter. Is this the result of skipping lotion for the last 20-odd years?
"As we age, some of the most common issues we start seeing happening to our bodies are dryness and a decrease in collagen and an increase in wrinkling from sun damage," says Dr. Jeanine Downie, M.D., a board-certified dermatologist and founder of Image Dermatology in Montclair, New Jersey. "Starting to see a looseness or crepiness in your skin as you near your 40s is because of a decrease of collagen and elastin — as you get older, your collagen production goes down, unfortunately."
So, while the good news is the slow-moving gravitational shift south isn't a direct cause of my moisturization negligence, I haven't exactly been doing my collagen any favors by ignoring my skin. Moisturized skin is happy skin, after all. In a frantic effort to make up for lost time, I've been grabbing every lotion bottle in sight and slathering myself from head to toe, which, unfortunately, has reminded me why I wasn't doing the whole rigmarole in the first place — that greasy, slippery, sticky feeling on my skin that I hate. I don't want to feel like I'm going to be glued to my clothes, but I'd also like to not look like I'm slowly morphing into a Shar Pei. Enter: Abi Amé Summer Skin.
The French brand was a sell-out hit during a 10-day soft launch in its native country and just launched Stateside this week with its signature product, a lightweight-textured lotion with the moisturizing stamina of a heavy cream. Using a blend of saccharide isomerate, niacinamide, oat extract, and vitamin B5, the brand claims that this serum-textured hydrator provides skin with all the nourishment and deep hydration it needs without smothering it in a greasy slick coating that adheres to everything you touch.
Seventy-two hours of moisture, plump skin, and no sliding off the furniture? Color me intrigued. I got my parched mitts on a preview sample before its big U.S. debut to see exactly what Summer Skin could do for my neglected bits and pieces.
Fast Facts
Price: $38
Size: 5 oz.
Clean/Cruelty-Free: Yes
Best For: Anyone who hates greasy or heavy lotions, warm weather months
Ingredient Highlights: Saccharide isomerate, niacinamide, oat extract, and vitamin B5
What We Like: Lightweight; instant hydrating effect; skin is noticeably softer and more supple; no sticky residue
What We Don't Like: Because the formula sinks in so quickly, you need to apply a bit more than you may be accustomed to
Rating: 4/5
How TZR Keeps Score: 1/5: Making a return; 2/5: Keeping as a backup; 3/5: Finishing to the last drop; 4/5: Recommending to my group texts; 5/5: Already on auto-replenish
The Formula
The hydrating heavy hitter in Summer Skin is the saccharide isomerate, which Abi Amé founder and CEO Yasmin Zeinab describes as "hyaluronic acid's more effective cousin. It works as a humectant, but it also has emollient properties making it extremely effective at hydrating the skin even in low-humidity climates," she says. "Unlike hyaluronic acid, saccharide isomerate provides deep long-lasting hydration because it binds to the skin, mimics the skin's natural hydration process, and creates a barrier on the skin that reduces trans-epidermal water loss. Together with oat extract, niacinamide, and vitamin B5, Summer Skin works to improve the overall health of your skin, in the long term helping it keep itself hydrated and healthy."
If you're unfamiliar with saccharide isomerate, that's because according to Dr. Downie, it's a relatively new hydrating ingredient. "It's smaller than other hydrating ingredients in terms of its molecule size so it can penetrate the skin more deeply," she explains. "Made from hydrating corn-derived sugars, it boosts skin's natural moisturizing factors and has some long-lasting hydration [benefits]."
My Typical Body Care Routine
Despite an at-home beauty closet stocked with body butters, creams, lotions, and oils galore, I just can't seem to get my act together enough to get into a consistent routine. Occasionally, when my skin either looks particularly cracked or gets that dreaded tight feeling, I'll reach for a body hydrator, but after a few days I inevitably peter out. The formulas I find myself returning to include Prima's omega-rich CBD and magnesium Beyond Body Oil, Juara's insanely addictive Candlenut Body Crème, Evolvetogether's lush and eco-friendly Hydrating Body Cream, and Cetaphil's so-weird-it-works Sheer Hydration Body Spray Moisturizer.
My Experience & Results
As a semi-new denizen of notoriously dry and humidity-free Colorado, the topic of moisture has been all-consuming for me. Where did all of mine go, how can I get more of it, why do I look so haggard all of the time, is that my skin texture or a topographical map of the Rocky Mountains that I'm currently running my hands over? Any time I put anything slightly hydrating on my skin I can almost hear it audibly sigh in approval.
Summer Skin looks like a serum-lotion hybrid and the instant I put it on my body greedily absorbed it, leaving behind a silky, soft skin feel. No greasiness, no stickiness, no slipperiness. My skin was simply more hydrated than it was a moment before. I didn't have to wait for it to dry before putting on my clothes, or rub it in aggressively to try and make it absorb into my skin. One swipe and it was gone. The product is dispersed in a pump, and I found that it took about 10-12 pumps for me to fully moisturize my entire body.
Because of how fast the product absorbs, I went section by section, rather than trying to do an all-over approach. The downside here is that you may find yourself using a bit more product than you might be used to. However, since the formula is so fluid, there's a lot more of it in the bottle than your typical lotion.
Before using Summer Skin. Courtesy of Megan McIntyre
After using Summer Skin. Courtesy of Megan McIntyre
Is Abi Amé's Summer Skin Worth It?
I've been using Summer Skin for about two weeks now and I can say I see a noticeable difference in the texture and hydration. My skin no longer feels itchy or tight and the cracks and crevices look noticeably less pronounced. More importantly, I've been consistent about using the body moisturizer because it's been enjoyable and doesn't have any of the annoying pitfalls that have kept me from being a constant moisturizer in the past. Do I suddenly have the taut, collagen-rich skin of my 22-year-old self? No — it's a lotion, not a time machine, y'all. As much as I wish formulators had cracked the code on that particular conundrum, according to Dr. Downie, if I want to course correct on the skin sagging, I need to start dedicating myself to building some muscle mass to help combat that loss of collagen, elastin, and estrogen and help with skin firming and toning. Combined with a dedicated moisturizing routine and protecting my skin against the sun, I'll be on track to keep my body looking and feeling as fabulous as my face.