This 5-Minute Hair Mask Cut Down My Wash Day Routine
Courtesy Of Jessica Fields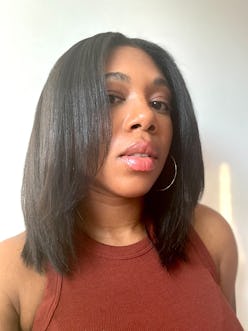 We may receive a portion of sales if you purchase a product through a link in this article.
In our series Trial Run, TZR editors and writers put the buzziest new beauty products to the test and share their honest reviews. This week, beauty writer Jessica Fields is testing Redken's Acidic Bonding Concentrate 5-Min Liquid Mask.
As a longtime beauty enthusiast, I have a penchant for developing solid routines that prioritize my specific areas of concern. For skin care, I focused on discovering ingredients, like niacinamide and various plant oils, that would help me maintain plump skin and an even tone. I would curiously play around with products, subbing in new launches to see if they deserve a permanent spot in my regimen. However, when it comes to my hair care routine, I seldom budge on my method and the I products use. That is, until I came across Redken's Acidic Bonding Concentrate 5-Min Liquid Mask, a creamy conditioning treatment that promises intense hydration and strengthening in under 10 minutes.
The claim alone captured my attention. You see, my hair is completely natural and while I love my texture with all its coils and curls, my day-to-day look is smooth and straight. Between doing own my hair and listening to my stylist's tips and product recommendations, I developed a sound wash day routine to cleanse, moisturize, tame frizz, and protect my strands against heat from my blow dryer and flat iron. The results are (almost) as good as the salon, but the process is quite long. So with this product promising to deliver a similar outcome to the multi-conditioner combo in my routine, I was intrigued to see just how well it would work on my thick natural hair. Ahead, my honest experience with the renowned brand's latest launch.
Fast Facts
Price: $36
Size: 8.5 fl. oz./ 250mL
Best for: Conditioning, detangling, deeply hydrating hair, adding strength and shine
Ingredient Highlights: Conditioning Care Complex, citric acid
What we like: Weightless; detangles hair in a short amount of time; adds shine
What we don't like: Pricey
Your rating: 5/5
How TZR Keeps Score: 1/5: Making a return; 2/5: Keeping as a backup; 3/5: Finishing to the last drop; 4/5: Recommending to my group texts; 5/5: Already on auto-replenish
The Formula
Like the rest of the products in Redken's Acidic Bonding Concentrate line, the 5-Min Liquid Mask's formula includes a proprietary blend of ingredients aimed to moisturize and repair damage. Specifically, it includes the Conditioning Care Complex, which is comprised of highly-concentrated conditioning agents and citric acid. Suitable for all hair types, from straight to curly and fine to thick, the mask melts into strands to boost hydration and improve overall health.
Kazumitsu Kawakami, associate principal chemist of haircare at L'Oréal's Research & Innovation, tells TZR that the Conditioning Care Complex is potent and extremely effective at both the surface and the internal fiber of damaged hair. While "the liquid-like texture ensures easy distribution and allows the citric acid to penetrate deeply, repairing the hair bond from root to tip."
Rich emollients also play a part in smoothing and hydrating the hair by sealing the cuticle and leveling the surface layer of the strands. Kawakami explains that "this new cuticle barrier is what protects the hair from external chemical and mechanical damage, decreases frizz, and enhances shine."
Courtesy Of Jessica Fields
Courtesy Of Jessica Fields
My Typical Routine
Washing my hair is an event, but I do enjoy it. I begin in the shower, first using an olive and tea tree oil-based co-wash, then following with a moisturizing shampoo. Once my hair is fully cleansed, I massage a treatment serum into my scalp before moving onto my conditioning routine. Here's where the regimen gets lengthy. Since I plan to straighten my hair after washing it, I like to layer several conditioners to deeply penetrate the strands, decrease frizz, and ultimately smooth the cuticles down before styling. After conditioning, I generally use a detangling spray to ease combing my hair before I begin to blow dry it.
My Experience & Results
Excited by the mask's five-minute claim, I began with my standard co-wash, shampoo, and serum routine. Once my hair was thoroughly cleansed, I parted it into four sections, fought the urge to reach for my lineup of conditioners, and instead squeezed a hefty amount of Redken's liquid mask into my hands before applying it to my curls. I made sure to evenly coat each section, gently combing the product through with my fingers. To my surprise, there was little tangling, so I grabbed my plastic cap, covered my hair, and waited. Given how thick my hair is, I decided to let the mask sit for 10 minutes instead of five to ensure it had time to completely soak in.
After rinsing the mask out, I used a wide tooth comb to separate my strands and was pleased to see that the comb swiftly went through my curls without the addition of a detangling spray. I even managed to forgo my hair pick, which I often use to untangle any small knots that may occur after washing. Kawakami explains that the Acidic Bonding Concentrate range is built around a science that resets damaged bonds of the hair from the inside out. "As it sits, the citric acid in the formula penetrates the hair fiber, reinforcing the hair's internal structure, thereby rejuvenating the hair's strength and resilience over time."
This mask made my hair look moisturized and feel nice and light while it was still damp — two elements that are important to make the finished look airy and weightless. Along with the final results, I was also impressed by how much time it shaved off my full routine. I did, however, have a touch more frizz than usual, but that can easily be attributed to the summer humidity in New York. That said, I look forward to using the mask during the fall and winter when the air isn't as thick with moisture.
Is Redken's Acidic Bonding Concentrate 5-Min Liquid Mask Worth It?
The results from this hair mask are hard to argue with, but the price tag is a bit steep for a treatment product. The good news is that you don't need to use a lot of it to get the job done, so it will certainly last a while. For my routine, that's an investment that I'm willing to make. By adding it to my lineup, I didn't have to worry about cocktailing conditioners or the arduous detangling process before styling. With just 10 minutes on my strands, the formula sunk in and helped me get smooth and shiny hair in the middle of summer. I'd call that a win.