The Radical History Of The Afro Hair Pick Transcends The Beauty Industry
It's a full-fledged icon.
Jennifer Graylock - PA Images/PA Images/Getty Images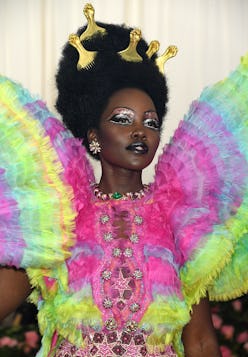 It stands 28 feet tall, two full stories of gleaming steel casting long afternoon shadows across New Orleans' historic Lafayette Square. Hank Willis Thomas is a sculptor of several public works, but none so evocative — and so instantly recognizable — as "All Power To All People", the larger-than-life Afro hair pick. As a grooming implement, rudimentary versions date at least 6,000 years back. Through the African diaspora, colonization, and reformation of communities post-slavery, though, the pick has become much greater than simply a specialized hair comb. The history of the hair pick is a history of Black America, a beauty tool that's become a symbol of identity and resistance.
The pick's power can truly be appreciated when considered as both a tool and a legitimately statement-making accessory. Because of its distinct, wide-toothed structure, designed specifically for lifting, detangling, and volumizing textured hair, its appearance in a hairstyle alone — or in a city square — is enough to confer meaning. Ahead, a look at the pick's ancient beginnings, rise in cultural significance, and why it's about so much more than just beauty.
The Hair Pick's Early Origins
While the Afro hair pick is probably most closely associated with the Civil Rights Movement of the '60s and '70s, as a tool, it's been a global mainstay for textured hair for thousands of years. Grooming and mutual care have long acted as bonding, community-building activities throughout history, and the original hair picks were certainly no exception. Often decorated with ornate carvings or designs, they often doubled as status symbols.
The Afro hair pick as a symbol of identity, though, is American by design. "It's really important to understand that the natural hair movement of the 1960s and 1970s is very different than the natural hair movement of the 2000s," explains Lori L. Tharps, co-author of Hair Story: Untangling the Roots of Black Hair in America and the founder of creative writing platform Read Write and Create. It was a full-on protest, born from the same agonizing frustration that sparked the Civil Rights Movement. "No matter what we did to appease, assimilate, or acclimate to 'mainstream white culture', we still were not being treated fairly or equally," she says. "So the idea that we even have to change our appearance — meaning straightening our hair with chemical or excessive heat treatment — so that we can even look more 'acceptable' to mainstream America wasn't enough, so why bother?"
Abandoning harsh straightening techniques was a way to let the world know exactly where one's opinions lay. Tharps says even today, there are people who consider a woman's natural Afro as militant or even "scary" — "because those hairstyles were meant to suggest such a thing in its original conception. "You could carry a protest sign, or you could just walk in a room with your Afro and you have the same, same result."
The Hair Pick's Turning Point
The Afro pick really exploded in popularity when barber Willie Lee Morrow perfected a wooden prototype in the mid-60s based on a traditional Nigerian model a friend brought him. Morrow's pick took off, and the Department of Defense even contracted him in 1969 to teach their thousands of military barbers to work with Black hair. The pick would, rather quickly, gain fresh life as a leave-in accessory around the turn of the decade, thanks in part to a bold new design. Four years after Olympians Tommie Smith and John Carlos raised a single fist in protest during the national anthem, the now-iconic pick featuring that same symbol entered the market. The fist shifts the Afro pick from implicitly to explicitly Black, underscoring its revolutionary power.
Celebrity hairstylist and PATTERN Hair Ambassador Mideyah Parker has strong memories associated with the simple yet ground-shaking symbol. "Where I'm from, we associate power with my people with the pick," Parker told TZR. "We would raise our hand with a tight fist as the pick rested in our hair. We would also greet our closest friends with the same gesture." Working with her client and PATTERN founder Tracee Ellis Ross, Parker's done a few styling shoots with picks she considers favorites. "One that comes to mind first is the new Pattern Beauty Heat Campaign. When styling Tracee Ellis Ross, I used the PATTERN Beauty Tortoise Pick. I love the way it glides through her pattern giving her curls the desired volume, and, of course, beautiful shape."
Tharps poetically describes wearing the pick in the hair as an accessory as something of a cultural nexus. "The beauty of Black hair is that it can hold things, so you can keep your pick in your head and show your Black pride. It's that perfect cross section of Africa and America — or I should say Black America. [The pick] is African in origin, but we have reclaimed it with a Black power fist."
Even as a beauty tool, the pick is special. Parker lists off roller-set hairstyles, twist-outs, and braid-outs as just a few styles best created with a pick, but the Afro's aesthetic power is especially undeniable. In an America with so much work to be done on racial equality and equity, even a Met Gala hairstyle by A-list actor Lupita Nyong'o is a prime opportunity for identity symbolism and, directly by extension, subtle protest.
"Hair really was meant to be a very powerful symbol of this, 'we're not going to kowtow, we're not going to reduce ourselves, limit ourselves, make ourselves small,'" Tharps says. "If a woman went from wearing her hair straight to putting in an Afro, she grew three inches."