These 11 Styling Products Make Natural Hair Look So Glossy
@lacyredway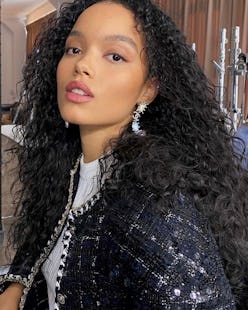 We may receive a portion of sales if you purchase a product through a link in this article.
The beauty side of the internet is currently enamored with the ultra-reflective, mirror-like level of shine. It started with building a skin care routine to achieve #glassskin (currently amassing almost 2 billion views on TikTok). But now, rapidly transitioning into hair care with hashtags like #glasshair (over 161 million views to date) and #liquidhair (1.4 million views and counting), everyone is swapping their air-dried beach waves for super sleek, straight hairstyles. However, for those with textured hair, whose strands' molecular structure shimmies and sways to an 'S' or a zigzag pattern, is glossy hair achievable? The short answer is yes, with the right wash day routine and shine products for textured hair.
First, it's important to understand why curly and coily hair can look dull. The smoother the surface, the more light it can reflect and the same goes for hair — the straighter the strand, the greater the shine. As textured hair strands twist and turn, they break and pose a challenge for light to reflect on the hair strands. Equally, the way textured hair requires additional moisture and hydration than most is an important factor. "Textured hair tends to be highly porous, meaning that it can be difficult to absorb and maintain moisture, leading to trouble keeping the nourishment it needs to be able to reflect light," explains celebrity hairstylist Lacy Redway.
Ahead, TZR speaks with two top hairstylists for their expert recommendations on how to build a shine-boosting hair care routine for curls and coils, plus the best products to use for an extra glossy finish.
The Best Ingredients For Shiny Textured Hair
To amplify shiny textured hair, introducing the right ingredients to your routine is vital. Look out for rich and nourishing saviors such as jojoba, argan, avocado, and sweet almond oil as well as aloe vera, vitamin E, and honey to condition, moisturize, and minimize dryness. You can also guard your strands with heat and UV protection products to minimize damage caused by the sun, pollution, and hot tools.
"Formulas that are protein-concentrated will give your strands the chance to become healthier and bind to moisture easier. Moisture is the key to sustaining healthy strands and retaining shine," explains Redway. "Nexxus Humectress Intensely Hydrating Hair Mask deeply repairs your hair while adding shine. Equally, the Curl Define Leave-in Conditioner is enriched with silk proteins and marula oil to help minimise frizz and maximize shine."
How To Adapt Your Wash Day For Shiny Textured Hair
"Shiny hair starts in the shower," says Kendall Dorsey, celebrity hairstylist to stars such as Rihanna and Solange Knowles. "I recommend starting with a good clarifying shampoo – Colorwow's Hooked 100% Clean Shampoo is perfect to enhance shine for textured hair and remove excess buildup. I would then follow a thorough cleanse with a moisturizing conditioner and mask to lock in further moisture needed for a natural shine," he says. Dorsey also highlights that once you've shampooed and conditioned your hair, "you'll want to wrap your hair in a satin wrap or shower cap to allow the hair to absorb any excess moisture before you rinse it out with cool water ahead of styling."
How To Boost Shine With Styling Products
As for introducing the right styling products to your routine, it's all about amplifying and enhancing your hair's natural shine. Start off with a protective serum and heat protectant before blow-drying or straightening. Then, apply a small amount of either a finishing gloss or glaze to your hair to create a reflective surface. And if you're going the extra mile, add a touch of gel to areas you want to shine bright in the light. But, if blow-drying and straightening your hair isn't part of your typical stying routine, try a shine spray. "I enjoy using shine sprays, they're made to maximize the gloss regardless of the style you're going for," says Dorsey. Let the shine commence.
Ahead, find editor-approved, shine-inducing hair products to ensure a glass-shine finish.