Kerry Washington's Baby Bun Is The Chic Summer Hairstyle You Can Recreate In 30 Seconds Flat
There's something about Kerry.
@kerrywashington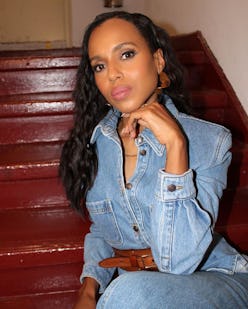 The search for the perfect summer hairstyle has officially been called off — and you can thank Kerry Washington. Every year when the weather gets warm, the multi-talented star seems to blossom, full of energy, ideas, and incredibly trendy hairstyles and makeup ideas. It's been an entire year already, but who could forget her easy hack for a sweat-proof smoky eye? Now, for summer 2023, expect all the it-girls to wear variations on Washington's half-bun braids. The ideal compromise between free-flowing and structured, it's no wonder she chose the style for her new appearance of the cover of Variety.
Washington got her long, hip-length braids installed at the beginning of May, but she's already demonstrated so many different ways to wear them. The School For Good & Evil star seems to love beachy braids for summer, regularly dressing them up with cowrie shells, hoops, hair cuffs, and strands of blonde highlights for even more dimension. By pulling half of her braids back, Washington can still show off all the detail and intricacy of her look while adding volume up top and keeping her face free. Washington's partially-up hairstyle is so excellent, she uploaded tons of outtakes and behind-the-scenes glimpses from the magazine shoot.
Washington's braids were created by celebrity hairstylist Larranisha Russell, also knows as Braids By Larri — she works with all sorts of A-listers, including Gabrielle Union, Janelle Monáe, and Beyoncé. From there, celebrity hairstylist Larry Sims constructed her stunning half-up look. Sims also styled her braids into a romantic true updo just days ago, an elaborate, perfectly voluminous topknot that relied heavily on the braids' wavy shape and curled ends.
To get the half-up look at home, the key is to not pull so much back that your loose hair looks scant. It's much easier to fake volume and fullness at the top, so concentrate on gathering just the front section around your face. From there, wrap the bun around itself for an upswept effect rather than balling the braids up — it's much easier and more protective to slide some hair pins in as needed to secure everything in place.
Just be warned: the style is so chic and easy, it'll become the only look you want to wear.